(Last Updated On: March 16, 2023)
German brands produce knives that are more resilient and robust in nature. They are made with completely different methods than other countries. Before you buy a German branded knife, you have to be careful of some of the precious aspects. Also, why invest money on wrong brands and later, blame the entire manufacturers of a country just because you couldn't choose the right branded knife, right?! 
So, we took it as a big responsibility to enlighten you with the best German knife brands, so you can acquaint yourself to them and find your peace in the kitchen life. Also, as branded knives are always appreciated by the professionals or beginners out there, make sure you go through the whole selected brands in this article. 
After evaluating all the selected best knife brands of German, you'll get to know their making process and specifications. And thus, you can decide, which German brand does suit your expectations. So, let's just jump on to the detailed review of the Best German knife brands. 
The list of Best German Knife Brands
Wusthof
Zwilling J.A. Henckels 
Messermeister
Boker
Gude
Besides the Japanese high qualitative knife, have you ever realized that German is also reputed because of its knife brands? Well, we are far ahead from conventional thought, so trying out knives of different brands than only using knives of Japanese brands should now be normalized by us.
Let's Move On Top German Knife Brands Detailed Review 
Not all branded knives are meant to satisfy your knife-hunger. There some specific and selected brands that follow the right kind of methods and instructions in order to produce the best knife ever. The best brand has to go through some real challenges while making the knives. Right craftsmanship, hardships, high-tech technologies are the main source of inventing the best ever knife. So, let's check out if the best German knife brands are capable enough to consume the hardships and deliver the best service or not. 
1. Wusthof – Legendary Knifemaking company Dominating Kitchen Knife Industry
Our top pick Wusthof knife brand is so popular and dedicated at its service that no Japanese knives can be near at it. Since 1814, the Wusthof manufacture is progressing by providing the best knives with absolute features. Because of their high-nod nobility, the brand is famous worldwide.


Though the brand produces both stamped and forged knives with great perseverance, the brand mostly focuses on forged knives for several reasons. They can make forged knives that are heavy and been hammered for several times to have a vivid and robust structure. The steel that they use is high carbon stainless steel with the formula of X50CrMoV15 for the sharpness and resilience of the blade. 
 They also add the chromium and carbon alloy in exact proportion so the whole blend of the blade sustains the rigidity. The joint of the handle and the blade is finished so well that it carries the pressure equally. The full tang handle helps on that matter too. The kitchen knives are an exceptional collection of the brand. The sleek materials and body help to attract the users big time. They come with around 10 exclusive knife collections for all kinds of purposes. 
WÜSTHOF Classic 8 Inch Chef's Knife,Black,8-Inch
WÜSTHOF CLASSIC IKON 8 Inch Chef's Knife | Full-Tang Half Bolster 8″ Cook's Knife | German Made Chef's Knife
Wusthof CLASSIC Eighteen Piece Block Set, One Size, Black, Stainless Steel
Again, the brand is determined to provide the best comfort the users and thus they use materials like wood or polypropylene or wood-composite for the handles. The wooden handles, especially, blackwood or rosewood handles provide heat-treated and moist-free facilities. They are also three riveted and include Asian-type counterparts. 
Brand Specialty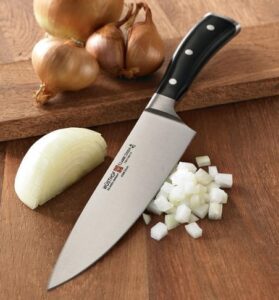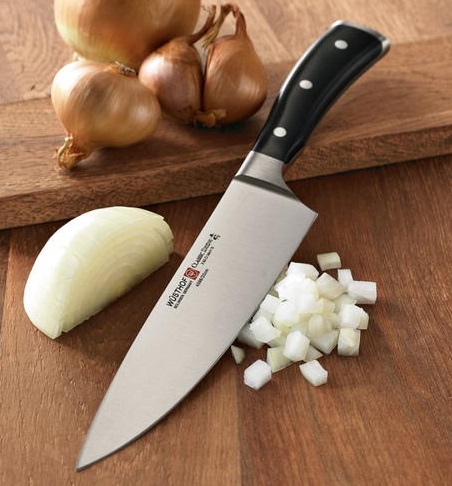 With extreme and high-end manufacturing methods, the Wusthof brand worked real hard to get this far. Also, keeping the first position among any other international brand is not at all a low-key matter. 
Corrosion-free blade with a great formula

Extreme Rockwell hardness of 58 

Moist-free wooden or polypropylene handles 

Full tang handle and right edge retention

Classy and rustic designs 
Bottom Line
Overall, the Wusthof brand has a great fan base throughout the world because of its ultra-making formula. The flexibility and durability due to be a forged knife is really incredible. 
2. Zwilling J.A. Henckels – Most Populer Knife Brand in Europ
This brand is fiercely leading the German country with discrete knife sets from a long period of time. Interestingly, the brand is totally aware of its high-tech formulated methods which may become the leader of knives around the world. The materials they use are specially imported from different valuable areas of the world.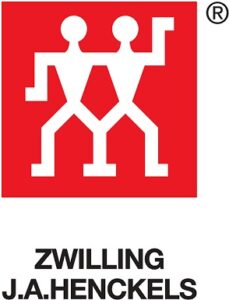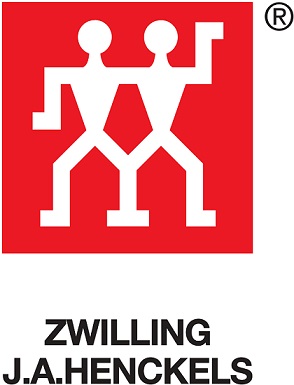 Their premium blade is made of high carbon stainless steel and the process they maintain is called SIGMAFORGE. They are firmly forged from a single piece of large sheet. The steel, later, is hardened several times so that the rigidity remains at its peak. With VG-10 core performance and honed shape, they satisfy the users in a great extent. 
The handles are featured with polypropylene or polyoxymethylene which is pretty much eco-friendly and easy grip. The wooden handles are of Grenadilla. Besides, ABS plastic, black linen Micarta handles are also suitable. The tang is full and it is expanded to the handle. With the 15-degree edge retention on both sides, the knife produces less pressure on your wrist. With great looks, the brand knows how to give a knife a sophisticated look.
class="cg-cb-title">Henckels Zwilling Pro -8″ Chef's Knife
J.A. Henckels International 16 Piece Forged Accent Off-White Knife Block Set
However, with full features and special methods, the brand reveals forged knives big deal. They are pretty much ice-hardened. Also, the blades are heat-treated and require a special kinds of preservation. With great image, even Gordon Ramsey's best choice is Zwilling J.A. Henckels after the Wusthof knife brand. 
Brand Specialty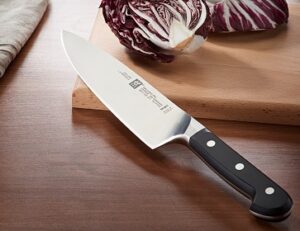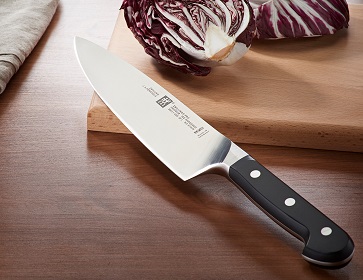 The brand produces knives with great care and masterminds and it illustrates through each set of knives. Internationally, the brand stands as the second-best knife brand just for producing high endurance knives.
Ice-hardened knife blades

Authentic materials for building-up

Easy handle for the effortless job

Requires hand wash rather detergent wash

VG-10 core and awesome Rockwell hardness
Bottom Line
In fine, to cope up with the competition in the recent world of knives, the brand is busy in upgrading the versions of each knife. From the professional to the noobs, the brand is a perfect decision.
3. Messermeister – Most Affordable Knife Brand 
With different combinations of alloy, the brand produces fantastic blades for outstanding knives. Though the brand still lacks some primal features, it soon will gain the stability to stand right beside other top two knife brands of German.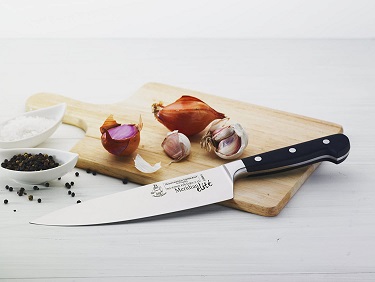 The brand uses the 1.4116 steel alloy including high carbon stainless steel, vanadium and molybdenum. This composite embodies the blade for durability and strength. From top to bottom the brand tries to give an accurate finishing. A razor-sharp 30-degree edge, 15 degrees on both sides of the handle, makes the knife supreme and impressive. 
The forged ones are very rigid in its performance and can tackle every chopping trick fiercely. Most of the handles of the Messermeister knife brand are triple-riveted. The thick and bolster blades are enough to lift up the whole knife in a unique way. It has also an image of a wide blade profile which helps to cover the whole board while cutting the edible in a round manner. 
Messermeister Meridian Elite Chef's Knife, 8-Inch
Messermeister Oliva Elite Chef's Knife (8-inch)
The hefty full tang handle are the solid creation of art. They put pakkawood, maple even bamboo wood for wooden handles. Also, their attention to detail work surprises many chefs out there. However, the brand mostly is known because of its iconic collection of Meridian Elite. It has some nice features including full tang handle and sleek black material-based handle.
Brand Specialty
As a German brand, Messermeister is a unique kind of brand which still gets to improve comparing the Wusthof or Henckels brands of German. Still some specialties of the brand compelling to attract you.
Follows the authentic traditional German process 

Perfect proportioned of alloy for making durable blades

Provides the best culinary set for the kids

Super classy handle suits in every weather

Comes with different colored handles 
Bottom Line
Overall, the messermeister knife brand produces knives that are attractive and arguable. They are competitive enough and on the verge of leading the whole knife brands of German.
4. Boker – Most Populer Outdoor Knifemaking company in Germany
Boker as a Germany knife brand produces exclusively designed knives for different purposes. The brand is more passionate about giving a thunder look to its knives so that your kitchen looks beautiful and your hands work easily with their knives. Any combat knife enthusiast can get more enthusiasm through the collection of this brand.

The boker knife brand is determined to you the real feelings of boker tree through the production of knives. The whole manufacturer brand depends and follows the strict rules of German's tradition of making a knife. With the best 44OA high carbon stainless steel and honed blade, the brand asks for reasonable prices for them.
The blades are resistant to any kind of corrosion just like other famed branded knives. Also, the full tang forged knives create an ultra environment while cutting, peeling and dicing. The hardness and the thickness of the blade help to create less pressure of the wrist and that's how the brand constructs its knives.
Top 3 Best Boker Chef Knife
Boker 130421DAM Damascus
Chefs Knife
with 8 1/4 in. Blade, Black
BOKER Forge Maple Chef's Knife, Brown
Boker Forge Chefs Knife with 7 1/8 in. Blade, Black
The handles are probably the most beautiful part of the whole knives. Their reluctant minds never run out of any unique ideas. The sleek micarta or wooden handles are designed with masterminds and they look super beautiful. 
Brand Specialty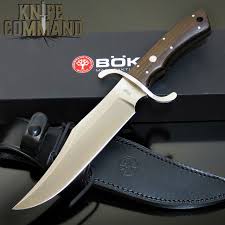 Being the fourth-best knife brand, the Boker knife brand is way more unique than any other brand. They are passionate and unconventional unlike other brands and that's what makes them special.
Unique designed knives

Enlightens the kitchen in sophistications 

Resilient and corrosion-free blades for long time service

Sleek and attractive handles

Pretty much budget-friendly 
Bottom Line
Overall, the Boker knife brand has an impressive way of making its knives. With the ultra-designed body and handles, the brand knows well how to hold its customers in hands. 
5. Gude
The journey of the Gude knife brand is not very long, still it manages to be in the list of top five best German knife brands. For about four generations the brand is leading and still continuing. Comparing of the period of the journey, the brand progressed impressively throughout the years.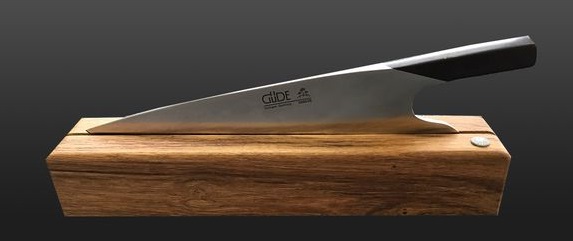 The brand produces drop-forged knives for many about hundred or more years and the method of it is getting popular inexpressibly. With 55 manual steps including ice-hardened procedure, the brand takes care of every single stage of a knife-making process.
Also, the blade is capable of providing 56 Rockwell hardness for a durable and corrosion-free knife. The composite of carbon, molybdenum, vanadium and chrome is the best step for making blades like these. Also they uphold Damascus steel-based knives that have royal Damascus finishes. 
Top 3 Best Gude Che Knife:
Güde Alpha Barrel Oak Series – 8″ Chef's Knife – Made in Solingen, Germany Since 1910 – Rare Oak Wood, Over 80 Years Old.
Güde THE KNIFE Series Ice Hardened Stainless Steel Oak Wood Handle Chef's Knife, 10-Inch
The handles are made of unique materials including alpha pearwood, desert ironwood, sturdy plastic and so on. They help to fit the handle right in the palm and don't get slipped off from the palm. 
Brand Specialty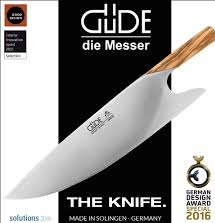 The Gude family is excessively generous in making the knives. Thus their specialties are also unique.
Follows over 50 manual steps for a single knife

Extraordinary look and service

Ice-hardened and drop-forged

Handles fit right into the palm

Comes up with a reasonable price
Bottom Line
According to the age of the journey, the gude family has increased its demands a lot. The perseverance and responsibilities they take for making each knife is really incredible. 
What is the best German knife brand?
Some of the most popular German knife brands include Henckels, Wüsthof, and Spyderco.
What are the best German knife brands for beginners?
Some of the best German knife brands for beginners include Henckels, Wüsthof, and Spyderco. For chefs, some of the best German knife brands include Henckels, Wüsthof, and Zwilling J.A. Henckels.
What are the best features of a German knife?
Some of the best features of a German knife include its sharpness, durability, and balance.
What are the best German knife brands for hunting?
Some of the best German knife brands for hunting include Henckels, Wüsthof, and Spyderco.
Are German knives made from high-quality materials?
German knives are typically made from high-quality materials, such as stainless steel.
German knives are known for their sharpness, durability, and balance.
Henckels a well-known German knife brand that makes knives for both hunting and cooking.
Wüsthof is another well-known German knife brand that specializes in kitchen knives.
Spyderco is a popular brand of Swiss knives that are known for their quality and sharpness.
How do I care for my German knife?
German knives can be cared for just like any other knife. Make sure to keep them sharpened and clean. You can start with  a simple routine of cleaning and sharpening your knife every time you use it.
1st step would be to clean the knife with mild dish soap and warm water.
2nd step would be to sharpen the blade using a sharpening stone or honing rod.
3rd step would be to protect the blade with a quality knife guard.
4th step would be to store the knife in a safe place.
Are there any special features to be aware of when buying a German knife?
German knives typically have a longer blade than other knives, which can make them more difficult to handle. They also tend to be heavier and have a slightly different balance than other knives.
Therefore, it is important to take the time to learn how to use a German knife properly.
Is it worth investing in a high-quality German knife?
There is no one-size-fits-all answer to this question. Ultimately, it depends on your personal preferences and needs. However, if you are looking for a quality knife that will last for years, a German knife may be a good option for sure!
Verdict 
In fine, if we come out from the saying that all the branded knives are good and concentrate on real kind of branded knives, life would be way easier that way. And German knife brands have already put a remarkable sign on the history of knife manufacturing. As a chef and pro, you should know which German branded knife is made out of right instructions. 
Inserting the ideas of the best German Knife brands will absolutely help you progress in your kitchen life. So, before investing your hard-earned money on something faulty, check out the whole article and decide carefully.