(Last Updated On: March 16, 2023)
Japan has always been known for its excellent knife-making skill. Before making knives, the country was famous for its sharp swords made by skilled swordmasters. When the era ended, the sword makers started a new era of making knives for versatile uses. They pick the best materials and blend them with their unique forging techniques to make the Best Japanese Knives Brand in the world.
Most of the best, famous, and popular knife brands all over the world belong to the country Japan. They are very passionate about their tradition and always try to put the traditional touch on anything they made. Knives from different Japanese brands are not an exception. 
Keeping alive the value of their best creation Samurai swords in every knife, they prove their unconditional love for their tradition and country. They never compromise to choose the best materials to manufacture or handcraft a knife with the best combination of art and technology. Here is the list of Top 10 Best Japanese Knife Brands:
Sakai TAKAYUKI
Global
Tojiro
Yoshihiro
Masamoto
Misono
Miyabi
Yaxell
Mac 
Moritaka Hamono
Hence, Japanese knife brands are leading the global cutlery industry to the fullest. They have customers worldwide. However, among all the Japanese knife brands we will cover some of the best Japanese knife brands today and have a clear concept of each of them.
1. Sakai TAKAYUKI [Best Japanese Knife brand wins Millions of Chef]
Sakai TAKAYUKI is the best pride of Japan. With a great history of 600 years old, this knife brand is ruling the cutlery sectors in the global market. Sakai is a city situated on the Osaka bay of Japan's main island. The city was the source of excellent tools for making the best sword by the local skilled craftsmen. By the 14th century, the city Sakai had become the most well-known capital for making the famous Samurai sword.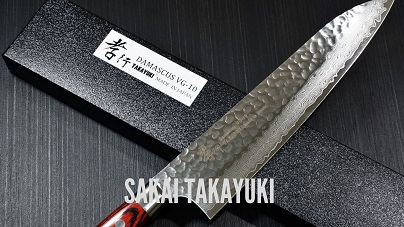 However, the making of knives in the city took place when the Portuguese first introduced tobacco in Japan. They demanded knives that would cut the exploded tobacco. Hence, starting from the tobacco knife, till now the brand Sakai TAKAYUKI is manufacturing knives and providing them all over the world. For over 70 years, this brand has been serving the industry and doing a great job indeed.
However, over these years the main authenticity and workmanship to make the best Sakai TAKAYUKi knife has remained surprisingly unchanged. Though the number of excellent craftsmen has been decreased each year, the uncompromised search for the best materials and superb technology has made it done.
Also, the knives from this brand are quite different from other Japanese knife brands according to the features. The materials are also different. The Sakai Takayuki Chef Knives come with a 33-layer of hammered Damascus design on the blade surface. The Damascus stainless steels are wrapped and folded with a special cutting core of VG10. This feature is included to have the sharpest cutting experience as it has 61 hardness Rockwell. 
The knives have evil sharpness on each side of the edge and the blades have pointy tips. All the knives from Sakai Takayuki are hand-forged in their own traditional way.
Brand Specialty
Everything and each knife of the brand Sakai TAKAYUKI is special because,
Each knife from this brand has the traditional Damascus layers and the steels are hand-hammered to improve the blade strength and durability.

The brand manufactures knives blending traditional art and advanced technology.

The brand never compromises with the knife material and they give their knives VG10 cutting core for superior sharpness.

Most of the handles are also made of mahogany that fit well and look stylish.
Popular knives from Sakai TAKAYUKI
Sakai Takayuki VG10 33 Layer Damascus Nakiri Japanese Knife 

Sakai Takayuki AUs10 45 Layer Mirrored Finish Damascus Gyuto Knife

Sakai Takayuki Kurokage VG10 Hammered Teflon Coating Santoku Japanese Knife

Sakai takayuki VG10 33 Layer Damascus Sujihiki Japanese Knife
Bottom Line
Overall, with a versatile collection of authentic and traditional knives, the Japanese knife brand Sakai TAKAYUKI is the number one brand. With the most skilled and professional workmanship, each knife from this brand is worth trying.
2. Global [Most Gorgeous Japanese Knife Ever]
Another Japanese brand that is also slaying the cutlery industry along with Sakai Takayuki is the Global brand. From the factory named Yoshikin, all the best knives from Global are being released. Like any other famous Japanese knife brand, Global has also its history of being established. The first Global Knife was made by Komin Yamada in the year 1985. It was a revolutionary knife as it was the knife of all time and way ahead of its actual time.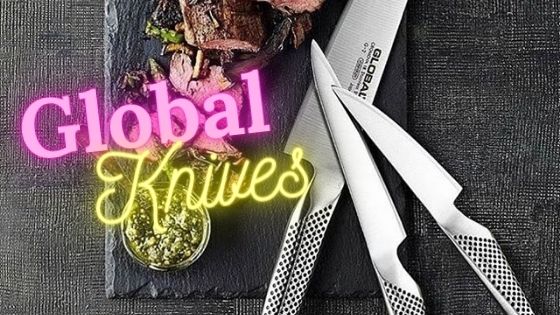 Since then, the brand has managed to create its own niche in the Japanese knife sector. Picking up the best materials and designs, Global has always come up with knives that are suitable for both beginners and professionals. The passionate knife enthusiast Komin Yamada has never compromise to put even an endless budget to ensure the knife quality. 
Like Sakai Takayuki, Global also follows the method of making Samurai swords while producing their knives. The most attractive fact of this Japanese brand is that it is infused with all the professional craftsmen who make the famous Global knives by hands. While other reputed knife brands are taking all the help from advanced technology, Global is doing it all by only hands. 
The handcrafted knives represent the intense skill, art, attention, and care of the craftsmen. With their signature blade material CROMOVA18, they give the knife a perfect shape, weight, size, and edge. Even though their knives are hand-sharpened yet they get the standard and balanced edge retention.
Brand Specialty 
All the Global knives come with an evil sharpness and it is one of their special features. However, this brand is well-known for many other reasons including,
The brand provides knives that have extensively thin blades yet they are durable, strong, and sharp.

Their knives are featured with a one-piece design that delivers supreme durability and also easy to clean.

All the knives from Global are carefully handcrafted by professional Japanese craftsmen.

Keeping the manufacturing budget always high, Global has achieved numerous successes.
Bottom Line
Providing their knife in almost 95 countries in the world, Global is doing good. They do not promote their knives as much as other brands do yet, it has managed to create the attention of almost all the knife users in the world.
3. Tojiro [Best Affordable Japanese Knife brand]
For over 60 years, the company Tojiro is also on top for producing some of the best knives. This Japanese knife brand is situated in Niigata of Japan. Tojiro knives are really not that famous in almost all the world kitchens. Still, Tojiro is a famous name and respected by most professional chefs and enthusiast home cooks out there.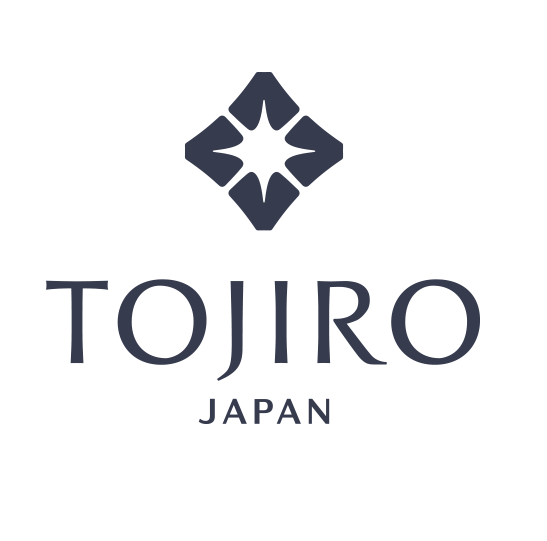 However, the brand made its first fruit knife in 1955. That time it was much criticized for not being made of sharp carbon steel. Hence, Tojiro started pursuing knives with earnest sharpness. With continuous evolution and improvement, Tojiro is now a Japanese brand with the theme, 'More than just sharpness.' 
Offering both the western-style knife and Japanese knife, the brand equally believes in technology and tradition. For picking up the best materials, Tojiro goes through thousands of trials and chooses the best possible materials. 
Tojiro knives are also famous for one of their knife manufacturing process called Decarburization Prevention or DP. Besides, offering sharp knives, Tojiro is also concerned about the knife handles and comfortable grip for superior satisfaction. They make handles with Oakwood that provides both durability and easy grip. 
Surprisingly, the Tojiro brand comes with versatile sectors for kitchen culinary. It has six different groups to sell its products. Including Japanese and Western-style knife the other four groups are named Special knives, Whetstone, Kitchen Tools, and From our atelier. 
Brand Specialty
Tojiro is the name of struggle. The brand is special because of its revolution and all the success that it deserves.
Unlike other top Japanese knife brands, Tojiro provides affordable knives.

The brand has come up in the market with almost 800 different products.

Tojiro offers customizable knives with customized handles and blades.

The brand has a unique series named 'Origami'. The Tojiro Origami knives are made following the Japanese traditional Origami. 
Bottom Line
Even though Tojiro knives are not high-end yet they have demand for home kitchens. They are the go-to solution for any kitchen cutting tasks. The forged knives are carefully handmade by Japanese craftsmen. 
4. Yoshihiro [Most Popular Japanese Knives in the USA]
Yoshihiro cutlery is the most popular Japanese knife Brand. The brand is most famous for its highly efficient chef's knives. This company is also one of the oldest companies in Japan that are still making some of the best knives. With the history of the seven-century, Yoshihiro is producing knives. For 600 years they used to make Japanese famous swords. For the last hundred years, Yoshihiro is manufacturing knives.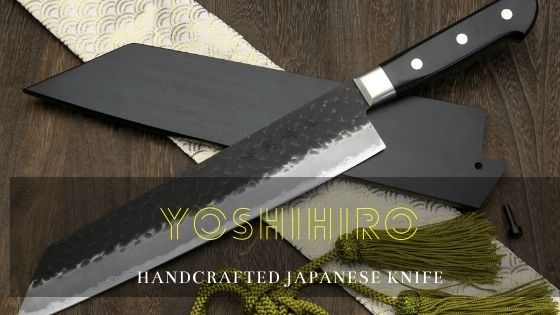 They used to make swords that were unique at that time. The skilled swordsmiths used to make them. But, gradually they became knife smiths and started to make knives following their unique techniques. However, Yoshihiro is known for its premium quality knives. The brand always uses premium quality materials.
The brand started selling its knife worldwide in the year 2008. Before that, they used to make knives only for Japan. Even they built another knife factory in 2008 in Beverly Hills, California. Now, people across the world can select any product from their 600 collections of knives even online. However, Yoshihiro has divided its knives according to the knife-edge. 
Along with their single-edged and double-edged knives, Yoshihiro also provides knives that are used for specific purposes. Till now, they have introduced versatile knives like Deba knife, Yanagi knife, and all. They also offer multi-purpose knives with high-performing efficiency. Their blades are made of super steels. The high carbon steels provide a diamond-sharp edge and hard feature.
With premium-quality wooden handles and Damascus layered blades, the knives are high in quality. You will find handles with different shapes including round, D-shape, octagonally shaped, and all. These handles are made of precious woods like shitan rosewood, Magnolia wood, ebony, enju, and all.
Brand Specialty
Chefs all over the world praise a Yoshihiro knife for its uncompromised stuffing of only the premium materials. 
Yoshihiro uses expensive and premium quality steels including Suminagashi blue and white steel, VG1, and VG10 steel are mostly used. 

The brand has also introduced an octagonal handle shape to its users for exceptional holding capability. 

The Yoshihiro knives are completely handmade by professional Japanese artisans. 

To make the knives durable Yoshihito also provides their special Tsubaki oil with their most knives.

To uphold the premium quality the brand launches very limited collections.
Bottom Line
Yoshihiro brand offers knives for different purposes and among them, their knives for sushi are required by most professionals. Among very few brands that manufacture knives both with single and double-edge, Yoshihiro is one of them. Hence, Yoshihiro is a proud knife brand of Japan. 
5. Masamoto [Best Professional Japanese Knife Band]
Another oldest and most well-known knife brand is Masamoto-Sohonten Ltd. For making traditional Japanese-style knife Masamoto is also on top of this list of best Japanese Knife Brands. It has to tell a history of more than 150 years. The professionals and even the celebrity chefs' best choice is a knife from Masamoto. With excellent craftsmanship, Masamoto tops in making the best Sushi knives.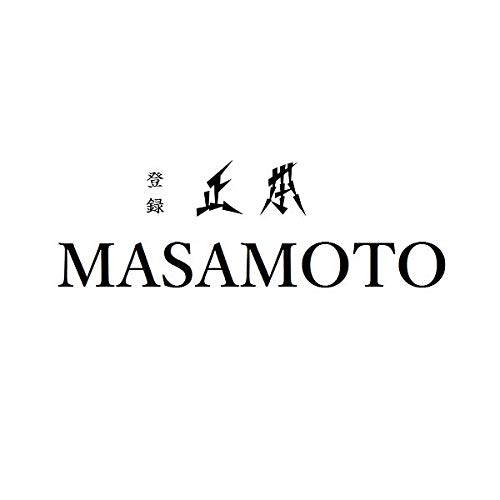 The brand Masamoto was first established by Minosuke Matsuzawa who devoted his all life in the search of exclusive knife-making techniques and applied them through establishing his own company. He was a legend and he got what he wanted. Minosuke Matsuzawa always pursued to make the best kitchen knives and by and by all his dreams came true. 
However, Minosuke's desire, spirit, and passion have been being preserved for five generations. Now, it produces professional-quality Knives. Hence, the brand is also in a good position along with other Japanese Knife brands.
Moreover, Masamoto has versatile knife series in its collection. The Masamoto VG Series comse with hyper Molybdenum Vanadium steel knives. Again, the Masamaoto ST Series comes with high carbon stainless steel. Likewise, you will see the Masamoto HC series, CT series, KK series, KS series, and all. Hence, you can see they have wide ranges of versatile knives. 
Brand Specialty
Being the pursuit of the traditional Japanese knife, Masamoto knives are only improved and refined over time. Each of its knives is a masterpiece with uniformed excellence. 
Masamoto is an award-winning brand that has achieved numerous awards since 1907. The brand was also awarded Hyper Molybdenum Steel Western-style Knife in 2011 by the Wall Street Journal.

Masamoto knives are forged and the knives are gone under the tempering process to increase their strength, sharpness, and durability.

Masamoto ensures an extensive hardening process while making their knives to make them long-lasting.

Along with western-style and Japanese knives, Masatomo also produces some other kitchen culinary including graters, peelers, chopsticks, and all.
Bottom Line
The engraved knives from Masamoto have always been a desire to have in every home kitchen. Many professional chefs have expressed how much they love a Masamoto knife. This legendary brand has never failed to amaze us even for once with their exceptionally beautiful knives.
6. Misono [Most Advanced Japanese Knife Brand]
Misono is known for being one of the oldest Japanese knife brands for making the western-style knife. From the year 1935, this small brand is trying to be all's favorite. Even though Misono is a small knife brand yet, it is slaying the world's cutlery sector. The surprising fact about this company is that it runs by only fifty workers. Additionally, these fifty workers produce 150,000 knives each year and that is crazy.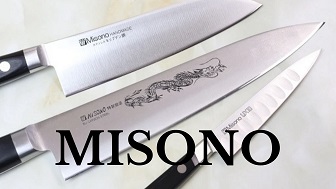 While other brands are fully dependent on maximum manpower to produce technology-based products, Misono is making fully handmade knives with that fifty craftsmen. Even each of its knife material is not made of imported from other companies. They make a hundred percent knife with intensive attention, care, and patience. 
They are doing these tough thing years after years. Like other Japanese brands, Misono also follows Japanese tradition. To make their knives efficient, they didn't need to take help from specialists from a different company. 
Giving standard edge retention and hand finishes the knives have exceeded knives produced by machines. After the inspection of each detail, Misono knives are finally out from the factory to sell.
Brand Specialty
Misono is a brand that has always focused on quality rather than quantity. Hence, the knife brand has a separate fan-base.
From the Misono knife's blade, edge, handle, HRC to its finishing everything is handcrafted.

Misono knives are hand sharpened yet, they are evil sharp right out of the box.

The brand boasts a unique value for its exclusive design and handmade creation.

 Misono makes knives through a totally unique and exceptional knife-making process.
Bottom Line
Overall, the Misono knife brand is one of a kind. You cannot just compare the brand with other Japanese brands. It has secured its very special place for its unique business strategy and people around the world appreciate it. 
7. Miyabi [Best Japanese fusion knife brand]
Miyabi is a knife-making brand that is owned by the company Zwilling Group. However, the brand manufactures the sharpest knives and it is highly recommended for their extreme sharpness. With the assurance of three things that are grace, elegance, and purity, Miyabi produces its knives. For ensuring these three things, Miyabi knives are always special and unique.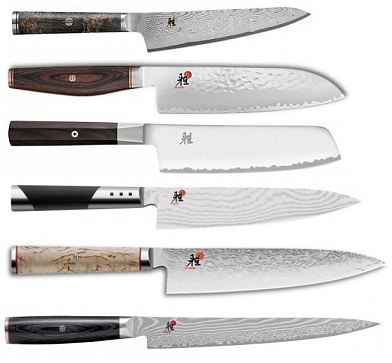 However, Miyabi also follows the traditional techniques of Japan to make their knives. With the help of professional artisans, they manufacture knives with the techniques of traditional Japanese crafting. To speak the surprising fact, a Miyabi knife requires a total of 42 days to be made. The knives undergo a hundred different steps to be manufactured finally.
Miyabi works deeply with the sharpness of the knives. Hence, they use different types of high-quality steels including VG10, SG2, special high carbon stainless steel. Till now, Miyabi has introduced six different knife series to its buyers.
Miyabi knives come with Pakkawood and a D-shaped handle that give a comfortable grip. Overall, with other kitchen accessories like sharpening steels, scissors, shear, and knife block, Miyabi is a brand known by all.
Brand Specialty
Miyabi represents the traditional culture and techniques that are used by the ancient masters of Japan who used to make the finest swords. 
To get an authentic Japanese knife, the Miyabi brand is always reliable.

Their knives represent the real sword of Japan and their designs are also enchanting.

The Miyabi knives are out in the market after completing total steps of 130 and this whole process makes the knives way special.

Miyabi company is also small and maintains quality instead of quantity.
Bottom Line
Whatever the fact, Miyabi knives are made following all of the strict rules and processes. If you get a Miyabi knife you will also get the vibe of a traditional Japanese sword in them. Hence, especially for the people of Japan, Miyabi is a masterful brand.
8. Yaxell [True Handcrafted Knives from Japan]
Yaxell is another one-of-a-kind brand from Japan that is also leading the knife industry since 1932. The brand has contributed a lot to this industry. The history of making Japanese swords in Seki, Japan, has been introduced again through the brand Yaxell and its knives. However, Yaxell has always focused on making knives that will meet the need of the customers.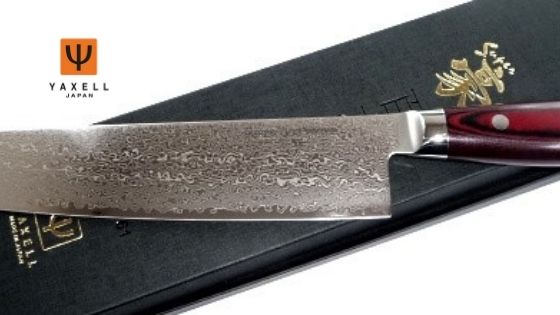 Yaxell makes professional knives inspired by the sword-making process. Each material they use to makes the best quality knives is rare in the environment. Yet, they do not compromise with the materials ever. The brand also uses the most advanced technology to make knives.
The Yaxell Dragon Series knives are made of materials that are extraordinary and require advanced technology to be made. With the best finishing possible, Yaxell knives are elegant and good to hold in hand.
Giving the exact HRC, edge, and all other elements, each of their knife is a true kitchen workhorse. The brand also has many high-end knives in its collections. Representing many significant and remarkable Japanese characters their knives boasts of Japan's tradition and culture. 
Brand Specialty 
From its establishment, Yaxell only has improved and till now it is improving to provide the best professional knife.
The knives are made of craftsmen who are skilled in making traditional swords.

The brand always comes up with new knives with more upgraded features and more suitable for a smart life.

Yaxell also has introduced many high-end knives that signify the signature characters from Japan.
Bottom Line
Yaxell is one of the most determined brands that is strict to its knife's production material and technology. Today whatever they have achieved only because of their hard work. Meeting the customers' need they produce knives that will suit every kitchen. 
9. Mac [Most Sharpest Japanese Knife Ever]
To come up with something new and unique, Mac has always something to offer. This brand produces knives that are unique according to the design and feature. It has a wholesome collection of knives that are made of high-end materials. Hence, Mac also has separate demand for knives.

Though most of the knives from the best Japanese brands are forged, Mac knives are exceptionally stamped. Yet, the feature doesn't decrease its value. In fact, the knives are famous for their efficiency. The knives are made precisely by professional artisans.
However, the brand uses special high carbon steel to make the knife blades. The steels are made of Chromium, Molybdenum, and Vanadium. Hence, the knives get superior edge retention, durability, and strength.
Moreover, unlike other conventional knife edges, mac knife edges are a bit off to the center to give them the supreme balance. For this feature, better control over the knife can also be gotten.
Brand Specialty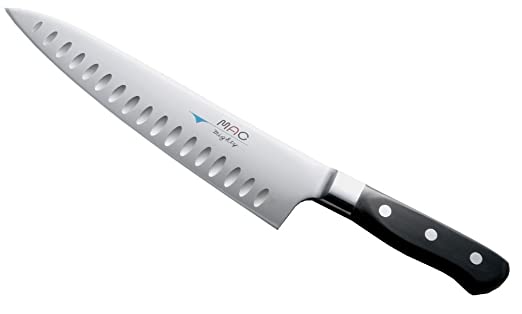 The brand is special for its uniqueness and more. They are a favorite to many knife enthusiasts. 
Till now Mac has sold 25 million knives around the world till its establishment. 

Their knives are uniquely stamped and have high efficiency.

With a cutting-edge angle of 45.5-degree, their knives are extraordinary.
Bottom Line
Overall, Mac is a famous brand for its very own design and manufacturing process of knives. People who want knives out of the box try a Mac knife and praise them. Since 1964, Mac is holding a top position in the industry.
10. Moritaka Hamono [Best Hand Made Japanese Knife Brand]
Last but not least on our list is Moritaka Hamono. For producing the best handcrafted Japanese knives this brand also remains on top. It was first founded in 1293. Now you know it also has a history of generations. For 31 generations, Moritaka Hamono is introducing quality blades for making knives.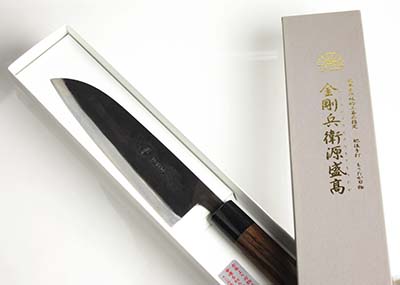 The brand was first established by the head swordsmith of Mt. Houman situated in Dazaifu, Fukuoka named Kongouhyoueminamotonomoritaka. After him, his descendants followed his techniques. Moritaka Hamono not only makes knives for kitchens, but it also produces edged tools or hocho for the purpose of forestry, agriculture, and gardening. 
Moreover, to represent the dedication towards their culture, the brand also makes Katana swords. To glorify the history of over 700 years Moritaka Hamono is still trying hard to provide the best knives possible.
Brand Specialty
It is one of the oldest brands and has a long glorified history.

The brand is not only famous for its knives but also is famous for making edged tools for various purposes.

Each of their creation represents the traditional value of Japan.
Bottom Line 
The knives from Moritaka Hamono are unique. Their rustic look defines their dedication to ancient Japanese culture. Overall, though, Moritaka Hamono is not the best but one of the best Japanese knife brands.
Final words
Japanese knives and brands have always been on hype because of their glorious history and tradition. Their knives are always chosen first by all the knife enthusiasts around. According to the quality, sharpness, durability, and all, the knives are beyond perfect. 
Each of the knives from the best brands is a result of immense carefulness, perseverance, enthusiasm, craftsmanship, and pride. The combination of artistic design and technical maintenance has increased their value. 
Hence, elite chefs of the world choose a Japanese knife over any knife from other countries. So, which Japanese branded knife you have? Let us know and comment with your feedback.