(Last Updated On: November 27, 2021)
Best American knives are hard to find nowadays. As international trading is now simplified enough, now you hardly get to see an American knife in people's kitchen instead of German or Japanese made knives. But finding the great fortune still some knife makers in America is manufacturing knife taking the pride of 'made in America' and actually slaying the world. 
In the competition among German, Chinese and Japanese knives, many people are confused and they question, do the American knives even exist? Is there any best American made knife? If the answer is yes, then what are those best American made knives? 
Answering all your questions we would like to inform you that, surely, American made knives do exist. And to clear all your confusions we have come with the whole review of the best American made kitchen knives where you will get to know all about our researches. 
So, let's find out what are these best American made knives that are worth keeping in your kitchen.
List of Best American Kitchen Knife [100% Made in USA]
Quick Comparison on 6  Best American Kitchen Knife
However, every kitchen owner deserves to have a good quality kitchen knife or knife set in their kitchen. Some of the American knives are made for the exact purpose. With different cut method the American knives are distinctive. With a compact comparison table let's have the knives discussed.
| | | | | | |
| --- | --- | --- | --- | --- | --- |
| Name of Best American Knives  | Weight | Size | Blade | Handle | Tang |
| 1.CUTCO 1725 Chef Knife  | 9 oz | 9.2" | High Carbon Stainless Steel | Thermo-resin | Full |
| 2. Lamson 39950 Silver Forged Chef Knife | 1.19 pounds | 8" | High Carbon German Stainless Steel | Pakkawood | Full |
| 3.Mercer Culinary M23510 Renaissance Chef's Knife | 9.6 oz | 8" | High Carbon German Cutlery Steel | Delrin | Full |
| 4.Dexter-Russell Chef's Knife | 0.45 oz | 8" | High Carbon Stain-Free Steel | Polypropylene | Full |
| 5.Mercer Culinary Zum Chef's Knife | 9 oz | 8" | High Carbon Stain-resistant German Steel | Delrin | Full |
| 6. Cuisinart C77BTR Cutlery Block Set | 8.4 pounds | 2.75"-8" | High Carbon Stainless steel | Delrin | Full |
6 Top American Made Kitchen Knife Review
1. CUTCO 1725 Chef Knife Review
Breaking all the records the Cutco 1725 is standing out of all other knives. This American-made French chef knife has totally unique features unlike other trendy knives. This special one is made by some super skilled American craftsmen. Weighing only 9 ounces the knife holds a blade with super sharpness.

The blade is made of 9.2-inch stain-resistant steel which is high in Carbon material. Hence, the blade offers a great range of services without having any rusts or fault in it. The handle is ergonomic and made of thermo resin. 
The dark brown handle delivers some legit purposes and the shape comes in a unique design. The rivets are of nickel silver alloy which is high in quality. The blade portion of the knife comes with a sealed plastic bag out of box.
Pros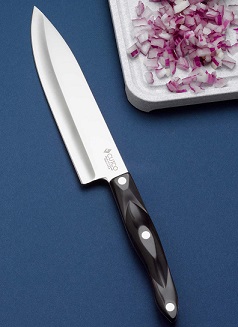 Comes with topnotch design

The knife is lightweight and suitable for all cutting purposes

Blade is stain and rust-free 

Edge is super sharp and high in retention

Chops, dices, slices effortlessly 

Handle is resistant to discoloration, water and fading

Rivets are of top quality

Full tang and handy 
Cons
Needs proper care and maintenance 
Knife Specialty
Model 1725 Cutco French Chef Knife is a classic one with number one recognition. Serving over 60 years this American made knife has never lost its importance to its customers. Having five-star ratings the knife feels too good at hand.
Bottom Line
Overall, this USA made knife is always the best choice over any other cutlery. Being your kitchen horse the knife will ease your all cutting of edibles.
2. Lamson 39950 Silver Forged 8- inch Chef Knife
After the Cutco one, the next best one on which our eye got stuck is the Lamson 39950 Silver Forged Chef Knife. This knife is also the workhorse and the best American made kitchen knife. The wide blade of the knife is totally forged carrying some strict methods.
The blade is manufactured from the finest German 4116 stainless steel. The single piece of the steel is taken for the blade forging for giving it a thin, shiny and sturdy look. The precision-forged blade is designed to cut any veggies or meats effortlessly.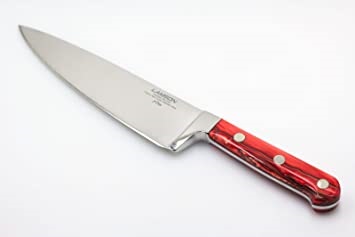 The whole look of the blade gets a new vibe and extreme attention for its brown woody handle. The handle is of PakkaWood and infused with resin ensuring high quality. The metal border around the handle from the bolster takes the knife to whole different level. 
The blade of the knife has a convex grind which reflects the strong edge of the knife with evil sharpness. The broad knife has a perfect polished finished. The edging and honing of the knife are handmade visualizing professional craftsmanship.
Pros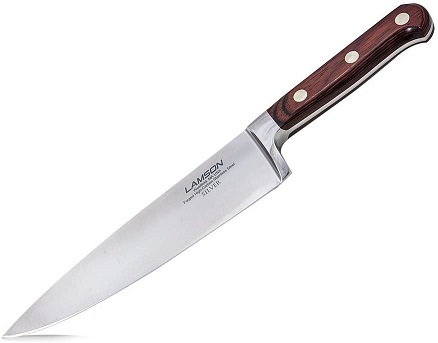 Lightweight and beautiful to look at

Blade is broad, wide and forged 

Edge is superior in sharpness

Best for cutting, chopping, dicing, slicing of vegetables, fruits and meats

Blade is rusts and stain resistant

Handle is resistant to water and heat

Full tang and bolster 

Durable edge and flexible

Well balanced and guaranteed
Cons
Requires hand wash 

Needs to be careful while cleaning 
Knife Specialty
Compromising nothing to get the perfect knife the Lamson American made kitchen knife is serving more than 179 years. Throughout all these years the knife empowers the same perfection in its every inch. This 1.19 pound kitchen tool is the real kitchen warrior. By the best hands of America's skilled workers the knife is being manufactured with the ultimate pride. 
Bottom Line
With the best possible material the Lamson 39950 is made giving the perfect balance to your grip and the knife. This finest American made knife will be one all-time choice when he first use it.
3. Mercer Culinary M23510 Chef's Knife Review
Another choice from all the American made best kitchen knives is the Mercer Culinary M23510 Renaissance Chef's Knife. This simple yet efficient knife is super sleek and sturdy. The knife carries a very simple look but the manufacturing materials are top at the quality.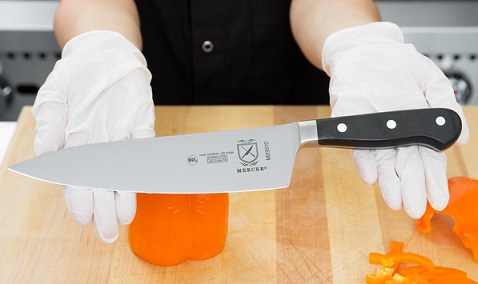 The blade of the knife is made of German high-grade stainless steel which is high carbon steel. The knife is forged following the special methods to keep the edge and surface durable for a long time. The edge is designed taper ground. Thus, it edge allows sharpness for a long time. 
With 15-degree edge angle the knife performs very well. The Delrin handle is durable and would not get any crack or exposure even after heavy use. The knife possesses a shortened bolster so that the full edge of the blade can be used while cutting larger cabbages or fruits. 
The triple rivets indicated a full tang blade lasts the end of the handle. Providing with all kind of safety guards the Renaissance cutlery require very low maintenance.
Pros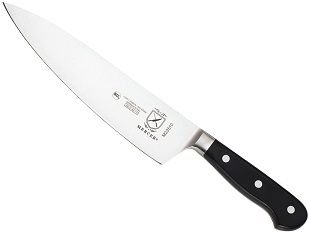 Comes only in a weight of 9.6 ounces 

The 8 inch knife is made for the use of both beginners and professionals

Certified by NSF

Chops, cuts, dices with zero effort

Blade is corrosion and rust-free

Edge is thin and superior in sharpness

Short bolster and full tang

Three rivets offer safety and high in quality 

Handle prohibits heat, cold and moisture

Flexible and engineered ensuring perfect balance
Cons
Knife Specialty
Everything about this knife is special. The Mercer culinary ensures the best specialists to manufacture this forged kitchen knife. Prioritizing all the kitchen and knife enthusiasts the knife is made with extra care and maintaining all strict rules. Even the knife is NSF certified which confirms that the knife is safe and highly qualitative. 
Bottom Line
If you are searching for a knife with a wholesome combination of quality, safety and performance than this Mercer Culinary jade M23510 Renaissance Forged Knife is highly recommended to you.
4. Dexter-Russell Chef's knife Review
You must have heard the name Dexter Russell along with other Wusthof or Shun knife brands. The reason is nothing but for its extremely high-quality USA made knives. And this one we have picked surely overcomes all other Dexter Russell knives and stands on top.
The knife comes in a very compact size weighing only 0.45 pounds. The high carbon stainless steel of the blade is ground giving a perfect balance and durability. The blade is wide and curvy featured with a velvety smooth cutting edge.
The go handle is highly textured and resistant to slippery and moisture. Offering a comfortable grip the handle is sanitary. This precise knife is definitely not for larger cutting jobs but all your general cuttings are easily done if you have it in your kitchen.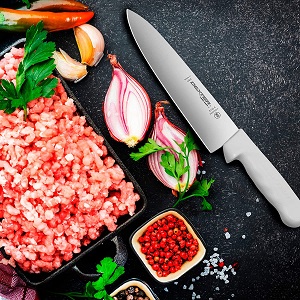 The tapered design of the knife enables precise and fine cutting like dicing and mincing. Overall, this concise knife can be the king of your kitchen once you grab it on your hands.
Pros
The blade is wide and cuts smoothly

Comes in a concise figure

Easy to hold and cut

Suitable for any small cutting mainly mincing and dicing 

Blade is stain, rust and corrosion-free

Handle has fine texture and slip-resistant

Certified by NSF, well balanced

Flexible, pointy and wide 
Cons
Hand wash is required 

Needs proper maintenance
Knife Specialty 
This American made Dexter Russell kitchen knife is mostly suited for all the cooks out there. The polypropylene handle and the high carbon steel made blade totally comes in a balanced figure. The whole knife is sealed to provide with the most sanitary product. Hence the knife is also NSF certified. 
Bottom Line
For the price you cannot get any better than this knife. This comfortable knife is worth choosing over the most popular Henckels or Shun knives.
5. Mercer Culinary Zum Forged Chef's Knife Review
This is another knife from Mercer Culinary. For its high quality, we have enlisted this knife in the best American made kitchen knives. Like all the Mercer Culinary, the Zum Chef's knife is a dream knife of a chef.
The blade is as usual made of a single block of thin German stainless steel. The knife is forged giving its edge a peerless sharpness. The blade, edge and tang is precision forged one-piece steel. Hence, the knife is unique and versatile in performance. 
The edge is designed to taper ground for long durability and the handle is Delrin-made providing superior comfort. The shortened bolster helps in cutting the edibles more precisely and easy sharpening process. The tang goes the last of the handle for better strength and balancing.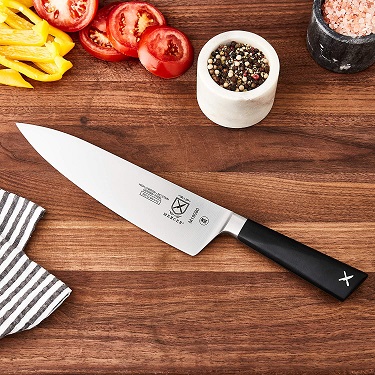 The whole Mercer Culinary Zum Forged Chef's Knife is a simple yet gorgeous knife with appreciable performance. 
Pros
Lightweight and easy to use

Blade is wide and cuts easily

Blade is discoloration and corrosion free

Edge retention is peerless 

Best for cutting, mincing, chopping 

Easy to re-sharpen 

Comfortable grip and flexible 

Full tang and well balanced 
Cons
Requires hand wash and proper storage 
Knife Specialty 
Like our first Mercer Culinary choice, this one too is special and obviously certified by the NSF. This Zum knife offers a perfect blend of strength, comfort and durability. The simple appearance will grab your attention with the trustable performance. 
Bottom Line
In a short, getting this knife with an affordable price is like over the moon attainment. You undoubtedly want this piece in your kitchen. 
6. Cuisinart C77BTR Cutlery Block Set Review
This is a whole knife set and includes one of the best American made kitchen knife set. Including Bird's beak paring knife the whole set offers different sizes of 15 knives for serving different purposes. The knives come in a woodblock.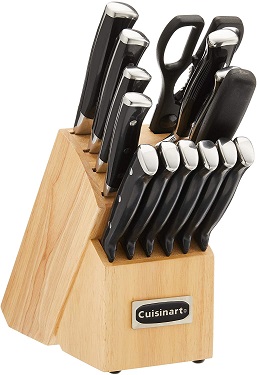 It also includes sharpening steel for quick sharpening. All blades of the knives are of high carbon stainless steel. The knives are precision-forged and strengthen to the peak. The bolsters are not shortened in this knife set rather they are featured full providing with safety guard.
The tip is pointier and the end cap of the knives is cool. The triple-riveted handle places easily on the grip and cuts with absolutely zero effort. 
The rivets are also made of stainless steel confirming a long-lasting service. The whole knife delivers every kind of cutting purpose a cook may require while cooking. 
Pros
Different knife serves different motives

Best for any cutting, mincing, dicing, chopping, slicing

Comes with an extra-wide bolster 

Offers safeguard

Blade is durable and corrosion and rust-free

Edge is razor-sharp and high edge retention

Handle is ergonomic 

Flexible, strong and well balanced 
Cons
Cleaning requires hand wash

Woodblock should keep away from water
Knife Specialty
The Cuisinart Triple rivet knife set is a classic set offering all sorts of knives a cooking enthusiast might need. The NSF certified knife set is a total pack with high-end classic design and performance. The edge is extremely sharp thus, the knives are provided with extra extended bolsters for safety issues. 
Bottom Line
Overall, this knife set may not be the best of all but surely best for keeping in your kitchen. If you are a versatile cook and every now and then have to change your knives then what can be best than this American made set!
FAQ's on American Made Kitchen Knife Review
1.  Why should one buy an American made kitchen knife?
American knives are likely more precise in quality and in terms of hygiene they are well certified. The knives empower the peerless blade, edge and handle. Offering a simple look the American made knives delivers an active performance. 
The wide blades offer every cutting easier and cuts rhythmically giving another level of satisfaction. To have every good feeling you must need an American-made kitchen knife. 
2. Are the blade and edge of the American-made knife durable?
Absolutely! The American-made knives are forged and some are made of one-piece steel. The steel must be high carbon stain-free and resistant to all corrosion and rustiness. Some blades are made of one single block of German stainless steel to ensure durability. 
The edge of the blades also has evil sharpness and it gives a friendly vibe while re-sharpening it. 
3. Are the American-made knives full tang and well balanced? 
Yes. They are full tang and the blade lasts to the end of the handle. This feature strengthens the whole knife and gives a perfect balance. This also saves your knuckles off to the cut-board. The bolster also comes with the shortened feature or extra-large feature offering all safety guards.
Wrap Up
Long story short, you need a knife that offers you the exact service you need and require. The American-made knives just do this thing and do it just right. Being provoked by the hipped knives by the internet and bring them home breakthrough your purse would not bring any good to you and your kitchen. 
Shortening down your searching options, this article of ours will help you a lot if you are looking for American made knife. Recommending highly our first choice to you the Cutco one, we leave you there to rethink. Let us know which one grabbed your attention and why did you buy that!