People know about the Cutco knives from a very different perspective. The brand possesses a very different and unique business model. Unlike other popular and recognized knife brands like Wusthof, Shun, or Henckels, the brand Cutco shows a different approach to making direct marketing.
Undoubtedly, this American knife brand produces some of the best knives using advanced technology. The knives are life-time guaranteed and if you have stepped to this page you might be looking for a Cutco knife set that will meet all your necessities.
In this article, we will give an honest review about the Cutco 21 Piece Kitchen Knife Set. 21 pieces in a set is not a normal deal you are getting here. In fact, it is huge! But, the question arises, are the number of tools is enough to convince? 
Certainly not! You need to know everything about it. So, let's get to know everything about this Cutco knife Set.
Cutco Kitchen Knife Set Review in Detail
You should be buying a knife that suits your kitchen and your cooking skill. Surely the Cutco knives look great and the brand follows different production methods while manufacturing them. The knives are hard, robust, and resilient in nature. Now, let's see if this set possesses our desired properties or not!
Blade and Material of Cutco Knife Set
This Cutco knife set includes a total of 21 pieces of knives of different blade sizes. This set includes Santoku style trimmer, carver, and Santoku knife of 7", 10" and 8" respectively. It also consists of up to 8 table knives. All the blades of the knives are made of 440A high Carbon stainless steel. 
To make the blades more corrosion resistant and rust-free this steel is used by this American knife making company. To make these blades, a heating process of 3 steep is followed. This method turns the soft steels into hard blades which add more balance to the whole knife.
It makes the blades more flexible, hard, strong, and resistant to rust and corrosion. Moreover, the blade is polished in such a beautiful way that it eliminates all the imperfection on the blade surface making it smooth and easier and quicker to clean. 
Hence, all the different sizes of the blades serve different purposes just perfectly. 
What about Edge and Sharpness?
Edge is the most important property of a knife. Many knives come with an evil sharpness that requires frequent sharpening. But Cutco has always tried to offer knives that have higher edge retention and do not require re-sharpening now and then.
The 440A is higher-grade steel that is specially used for making knives and to have superior edge retention with easy edge re-sharpening. In this Cutco knife set, the edges of the knives are empowered with Double-D recess which is a series of three scalpel-like sharp edges. This method creates pointy teeth on the blade edge.
400;">This feature protects the knives from getting contact with surfaces that might dull the knife. Every strike needs the same hit while working with the edge. Any backward, forward, and straight down cutting with the edge of each knife of the set require equal ease. However, the sharpness of the knives is long-lasting and needs to sharpen occasionally.
Handle make Cutco Knife Unique, Isn't it?
The handle of the knives of this Cutco set is made of thermo-resin. The handles of the knives of several sizes are made in a way that fits in all hands. The handle material makes the handle resistant to water and any temperature. The molding of the handle sets ergonomically on hand. It puts the thumb and other fingers firmly while holding the knife and helps in pushing maximum power from the hand effortlessly.
Hence, the handle creates a great balance to the blade and performs rhythmically while cutting the edibles. Moreover, each knife has two pieces of handles that are connected with each other with triple rivets along with the blade.
Design of Cutco Knives
The whole Cutco knife set looks great in appearance. It is designed with a number of 21 knives that serve separate kitchen purposes. This set is a true representation of the art of American craftsmen. Even the block is made of cherry oak wood and the finishing is excellent. It holds all the knives in different sections. 
Along with the knives, the set comes with a sharpener as well. With 8 table knives, trimmers, paring knife, Santoku chopper, cleaver, cheese knife, slicer, peeler, shears, and turning fork this set completes. The knives are great in both shapes and sizes. The blade and handle materials are also high in quality.
Even the three rivets on the handle are made of nickel silver alloy. These rivets help in connecting the two-piece handles and the blade together. They are also sanded flushed so that the handles become smooth and convenient while holding. 
User Experience from Real Users of Cutco Knife set
With almost five-star ratings, the whole knife set is most of the American's favorite kitchen arsenal to have. Most of the buyers have found the knives of the set very sharp. Though some of them have complaints about its price as it's a bit high pricy yet the knife block has a great product value.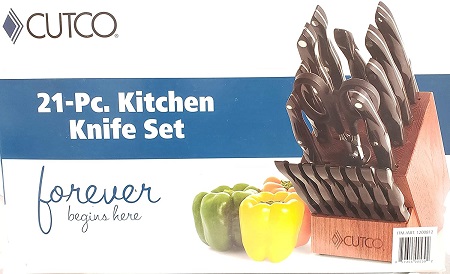 As the knives are capable of lifetime serving, the users of this Cutco Knife Set are very much satisfied. Moreover, both the quality and quantity of the knives are pretty much convincing.
Warranty By Cutco Cutlery
Products and knives from the company Cutco are backed by the company's Forever Guarantee. But, as this set is a resold product from Cutco, it may or may not offer a forever guarantee for this.
Pros
The knives are built with advanced technology and high-quality material

The blades are strong, polished, durable, rust and friction-free

Edge is super sharp and long-lasting

 Supreme edge retention and flexibility

The handle is smooth, ergonomic, and convenient

Perfectly balanced and well-constructed

Full tang and lifetime service ensured

Easy sharpening and comes with an elegant knife block
Cons
Hand wash and proper care is required 

Block should be kept away from water 
FAQ's on Cutco Knife Set Review
Why Are They the Perfect Addition to Your Kitchen?
Cutco knives are known for their high-quality construction and sharp blades. They are the perfect addition to any kitchen because they can handle even the most challenging tasks with ease. Their sleek design also makes them a popular choice for modern kitchens. Whether you're looking for a reliable chef's knife or a set of sharp slicing knives, Cutco has you covered.
How Do They Compare to Other Brands of Kitchen Knives?
Cutco is a brand that has been around for a while and they make some of the best kitchen knives out there. From some point of view, they are overpriced, but they are definitely worth the investment. They hold their edge well and are easy to sharpen. If you are looking for a high-quality set of kitchen knives, Cutco is definitely worth considering.
What Makes Cutco Knives So Popular?
Cutco is a brand that is known for its high-quality kitchen knives. The company has a wide variety of knives to choose from, so there is sure to be a knife that will fit your needs. The blades on Cutco knives are always sharp and ready for use, which makes them the perfect addition to any kitchen. Additionally, the handles on Cutco knives are always comfortable to grip, which makes them easy to use.
How to Choose the Right Cutco Knife for You
When it comes to knives there are a few key things you should keep in mind when choosing your next knife: blade size, shape, and material.
First and foremost, blade size is important. You'll want to choose a knife with a blade that's big enough for the task at hand but not so big that it becomes cumbersome to use. A good rule of thumb is to choose a knife that's about twice the width of your hand.
Next, think about the shape of the knife. There are two main types of knives: straight and curved blades. Straight blades are better for cutting meat; curved blades are better for slicing fruits and vegetables. Which type you choose depends on your personal preference.
And finally, make sure to consider the material the knife is made from. Knives made from high-quality materials are going to be more durable and will hold their sharpness longer. Some of the most popular knife materials are stainless steel, carbon fiber, and titanium.
How long do Cutco knives last?
Cutco knives are known for their high-quality construction and durability. They are the perfect addition to any kitchen because they can last for a long time. Some Cutco knives may last up to 10 years, depending on how often they are used and maintained.
How do you sharpen Cutco knives?
Cutco knives are known for their sharpness and durability. To keep your Cutco knives in tip-top shape, follow these simple steps:
1. Place the Cutco knife on a flat surface so that the blade is facing down.
2. Hold the knife at an angle so that the blade is resting on one edge of the flat surface.
3. Apply pressure to the middle of the blade with your other hand, using enough force to sharpen but not too much that you risk damaging the blade.
4. Use a honing rod or diamond sharpener to sharpen the blade to its desired sharpness.
5. Wipe the blade clean with a cloth and store in a safe place.
According to the product value, our reviewed Cutco Knife Set would be a great choice for your kitchen. If you are a cook who likes to use separate knives for separate purposes instead of only the chef's knife then this is indeed recommendable. 
Then again, the set is a bit pricy compared to other Cutco single all-purpose knives. So, if you barely have to look into your purse before buying stuff then most probably you should go with it.
2. How long would the Cutco Knife Set last? 
The product is promised to be lasted for a lifetime by the brand Cutco. The blade, its edge, and the handle of the knives are made of qualitative and the best possible material. Moreover, the manufacturer will fix or sharpen the defective knives if needed.
Cutco knives are made of high-quality stainless steel that is rust-resistant and will last for a long time. The blade on each Cutco knife is made from 8Cr13MoV stainless steel, which is a type of steel that is both tough and sharp.
As the knives of the set are highly durable and perfectly well-balanced, these are used by many professional chefs out there who run busy kitchens. The Cutco knives can be used both by beginners and professionals. 
Wrap Up
Following the high-tech formula, most of the Cutco knives are made and our reviewed Cut Knife Set is not any exception. Though the knives of the brand do not look much fancy like the ones from Wusthof or Shun yet the stamped knives come with a great performing efficiency. The stamped knives are durable and offer you a lifetime experience once you have it.
Moreover, if you want your kitchen look great with a culinary then the Cutco Knife Set has a lot to offer you. Fulfilling all your cutting types of equipment the knife set is a great deal you shouldn't delay any longer to grab. Finally, know first if the set is capable to meet your needs or not then decide on it. Also, let us know your feedback regarding the content.