(Last Updated On: September 21, 2022)
Over the centuries, Wusthof is serving the most reliable and trusted knives to its customers. They are also one of the most respected and proficient knife makers in the world. Till now Wusthof knives are standing over all other German knives across the world. 
In Solingen, the knife capital of Germany the company started its journey along with other knife maker companies like J. A. Henckels, two hundred years ago. Hence, the city is called the 'city of blades'. 
So, if you are looking for the best Wusthof knife then keep scrolling and reading our whole article. Because most probably you are here to have an overall knowledge about the best Wusthof knives and their reviews to make the best choice while buying!
List of 7 Best Wusthof Knives 2022 for Kitchen
However, the brand Wusthof is proving itself for years following all the strict laws of manufacturing the best quality knife. Hence, even many popular television chefs prefer a Wusthof knife for their cooking. With heavy-duty knife features, Wusthof has some of the best knives. 
Quick Comparison on 7 Top Quality Wusthof Knife
Wusthof comes with western style aggravated knives ensuring the best quality. Their different knife lines are totally dedicated to all kitchen and knife enthusiasts out there. In our review, you will get to learn the best Wusthof knives with a great combination of price and quality with their short comparison table.
| | | | | | |
| --- | --- | --- | --- | --- | --- |
| Name of Best Wusthof knives | Weight | Size | Blade | Handle | Tang |
| 1. WUSTHOF Classic Ikon Chef's Knife | 9 oz | 8" | High Carbon Stainless Steel | POM | Full |
| 2. Wusthof CLASSIC Cook's Knife | 9.4 oz | 8" | High Carbon Stain Resistant Steel | POM | Full |
| 3. WUSTHOF Classic Chef's Knife | 8 oz | 8" | High Carbon Stain-Free Steel | POM | Full |
| 4.Wusthof  Classic Ikon Santoku Knife | 7 oz | 7" | High Carbon Stainless Steel | POM | Full |
| 5. Wusthof Gourmet Chef's Knife | 7 oz | 8" | High Carbon Stain-Free Steel | POM | Full |
| 6. Wusthof Classic Ikon Knife Block Set | 7.2 pounds | 3 ½" to 8" | High Carbon Stain Resistant Steel | POM | Full |
| 7. Wusthof Classic Knife Block Set | 15 pounds | 3 ½" to 9" | High Carbon Stainless Steel | POM | Full |
Let's Drive into Top Wusthof Knife Review In Detail
1. WUSTHOF CLASSIC IKON Chef's Knife Review
This Wusthof knife of IKON series holds the topmost position in our list of the best Wusthof knives. This 8-inch cook's knife is considered the ultimate kitchen workhorse. From mincing to dicing, every cutting is possible with this all-purpose knife.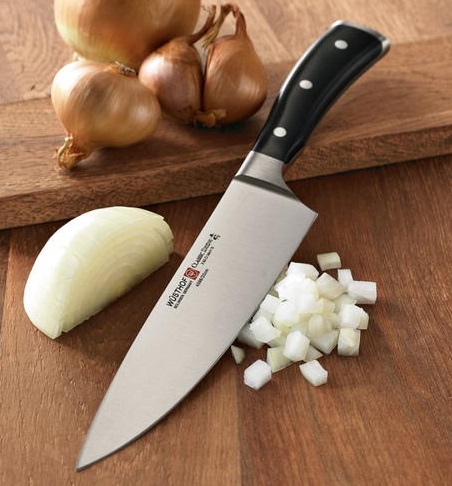 The Classic Ikon refers to the overall beauty, ergonomics and design. The blade is made of high carbon stainless steel with a precision-forged method to give it the best quality possible. To give it a pro-style heft the knife is designed with a double bolster.
The long blade has a hardness Rockwell rate of 58 degrees. The edge is sharpened by the company PEtec. With double edge retention and twenty percent more evil sharpness the blade cuts everything without even forcing it.
The handle is ergonomic and made of long-lasting sophisticated synthetic material. The half and double bolster give a perfect balance to the whole knife. To ease the re-honing the bolster is designed half which is appreciable.
Pros
Classic Ikon comes with a distinctive appearance

Lightweight and all-purpose knife

Suitable for dicing, slicing, chopping, mincing of veggies, fruits and meats

Blade is corrosion and rust-free

Edge is razor-sharp and supreme edge retention

The handle is contoured and resistant to fading and discoloration

Flexible and well balanced

Full tang and double bolster
Cons
Hand wash is required 

Doesn't come with a sheath
Knife Specialty
This Classic Ikon series of Wusthof is one of a kind knife you can ever meet. Strictly following the German knifemaking laws this knife is made. The knife also carries the name Solingen in it. The triple rivets on the handle also represent the standard quality of the knife.
Bottom Line
 Maintaining the legacy for 200 years the knife is made with pride. This is possibly the best knife you and your kitchen deserve.
2. Wusthof CLASSIC Hollow Ground Cook's Knife Review
With a perfect hallow edge this Classic series of Wusthof brand is another masterpiece we have found. After the Classic Ikon Cook's Knife this is another kitchen workhorse that deserves to be placed in the list with pride.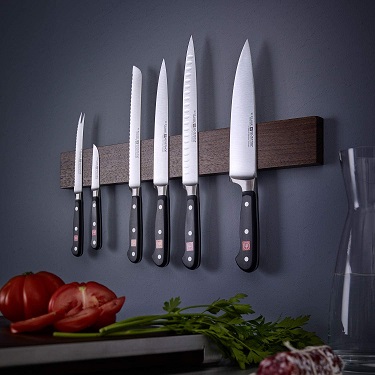 For generations, the Classic series of the Wusthof brand has been serving as the best-selling series. This line has to offer a wide range of cutlery to its customer for their great satisfaction. However, the knife is to serve all purposes. The blade is precision forged and manufactured from a single block of stain-free steel.
The blade is tempered to achieve a standard rate of 58 degrees Hardness Rockwell. The edge is sharpened by PEtec to get a 20 percent sharper edge. The edge is finely crafted to get a hollow design. It is done to resist the food from sticking the knife while cutting.
The knife is full bolster ensuring all safety while cutting. The handle is of polyoxymethylene which is a sophisticated material. The handle has three rivets on it connecting the blade to the handle. For precise control, the blade, bolster and handle work altogether. 
Pros

Weighing only 9.4 ounces the knife looks great

All-purpose knife 

Cuts, chops, dices, slices, minces any edibles perfectly

The blade is resistant to corrosion

Comes with hollow edge 

Edge is evil sharp and high in retention

The handle is comfortable and good in quality

Full tang and full bolster

Perfectly balanced and offers figure guard 
Cons
Requires hand wash and proper storage 
Knife Specialty
The knife is special in its edge section. The vertical indentation is done keeping even spacing between each crafts gives it a hollow look. This design works as the air pocked between the knife and the food while cutting. It pockets push the pieces of food off to the blade and places to the chopping-board gently and rhythmically. 
Bottom Line
Overall, buying this Wusthof knife can never go wrong. To give the best cutting satisfaction this knife of the Classic series is the best.
3. WUSTHOF Classic Chef's Knife Review
This is another Classic series knife of Wusthof. This chef's knife is also an all-purpose knife.  The blade is precision forged and made of exclusive stainless steel. The steel is high in Carbon, thus, it resists corrosion and highly durable.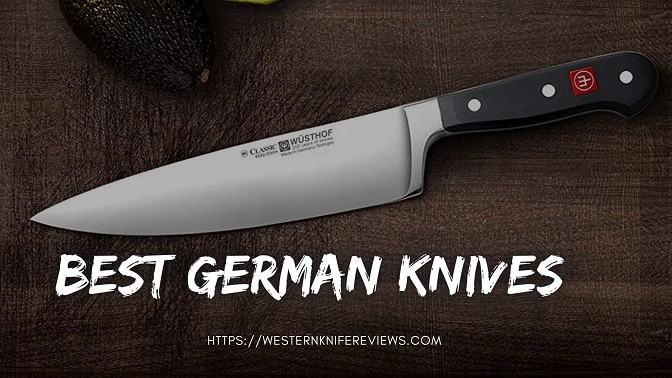 The edge sharpened by the PEtec just like any other Wusthof knife to ensure the best sharpness and edge retention. The Hardness Rockwell rate is also just perfect. The handle is of synthetic material resistant to heat and cold.
The knife is designed with full bolster to make maximum safety while cutting. The triple rivets on the handle are also premium in quality. Hence, the bolster and the triple-riveted handle together work as fingers guard.
Pros
Suitable for all cutting purposes

Lightweight and elegant appearance

Best for cutting, chopping, dicing, mincing of any edibles 

Blade is long-lasting and rust-free

Edge is super sharp

Handle is ergonomic and balanced

Flexible and full tang

Full bolster and safety ensured
Cons
Not dishwasher safe

Sheath doesn't come
Knife Specialty
The knife is ordinary yet exceptional in performance. The craftsmanship of the knife is done to be the kitchen king. The precision-forged knife has full bolster to have great control over the knife while cutting. The knife is fitted to complete hygienically and it delivers extraordinary seamless and durability.
Bottom Line
If you are googling for one specific knife this knife might be the one. The knife is made for those who need to hold only one knife.
4. Wusthof WU4176 Classic Ikon Santoku Knife Review
This is another hollow-edged knife from Wusthof. This knife is also considered as one of the best Wusthof knives. The 7-inch knives weigh only 7 ounces. The forged blade of the knife is extremely thin and hard. The blade is made from a single block of steel.
With a curvy end the edge of the knife is exceptional. With a 10 cutting edge, it provides with a straighter edge. The knife is made for busy kitchen where the cook has to deal with the widest array of edibles every day.

The handle is designed with a contemporary look giving it a contoured finish. It also places on the grip giving a comfortable feeling. The POM handle is featured for getting a structure of tighter molecules. Hence, the handle lasts long. 
This knife from the Wusthof Classic Ikon lines has half bolster for larger cutting purposes. The handle is riveted for the strong formation and precise control.
Pros
Very lightweight and comes in a compact size

Suitable for every cutting type

Best for larger cutting like fish, meats and cabbage

Blade is thin and corrosion free

Edge has scalpel-like sharpness

Handle is ergonomic and high-end quality

Flexible and durable edge retention

Full tang and half bolster

Effortless to use and has air pockets
Cons
Dishwasher is not safe 

Comes without sheath
Knife Specialty
The specialty of the knife is its compactness and excellent performance. The seven-inch knife is able to run an impatient kitchen without creating any trouble. From fish to any larger vegetables is not any big deal to cut with the knife. Moreover, the evenly spaced air pockets help to release the food from the knife and offer non-stop cutting performance. 
Bottom Line
This highly durable Wusthof knife is a power tool in a kitchen. If you believe in keeping one knife, then you might get this one for sure.
5. WÜSTHOF Model 4562-7/20, Gourmet Chef's Knife Review
This one from the Wusthof Gourmet series and this is the best knife of this series. The knife has a laser-cut stamped feature. The knife is a reliable and most essential kitchen arsenal. Being the workhorse of a busy kitchen the knife will do every cutting you want.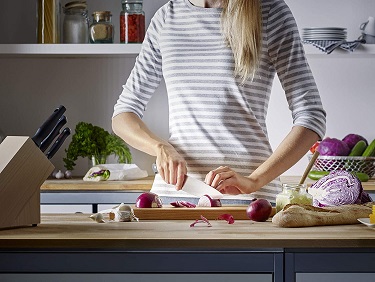 The Gourmet series is launched by the company to set a new standard of elegance and balanced craftsmanship. The blade is made of stainless steel which is specially laser crafted. The POM handle is durable and the material is resistant to all negativities.
The handle works as half bolster giving a precise balance. The 12 cm longer blade is full tang and goes the end of the handle. The one-piece steel blade possesses a great cutting efficiency. With a lifetime guarantee, the knife is a go-to kitchen solution.
Pros
Lightweight and comes in a concise figure

Best for chopping and slicing

The blade is thin and laser crafted 

The edge is thin and super sharp

Well balanced and superior edge retention

Flexible, half bolster and full tang

Handle is pleasant and helps to cut with zero effort
Cons
Knife Specialty
The Gourmet series knife is made following the state of the art laser technology. From one piece of special alloy steel the blade is forged. Thus, the blade has edge that is easily restorable. With the most standard feature and best quality material, the Wusthof Gourmet Chef Knife is amazing.
Bottom Line
To have an efficient slicing and rhythmical chopping of your desired food this knife is the best. With a five-star rating the knife is serving great activity to its customers.
6. WÜSTHOF CLASSIC IKON Eight Piece Knife Block Set Review
This is a Wusthof Ikon series knife block set that comes with a total 8 pieces. The block set has 15 slots. The block is made of Walnut wood. With different sizes of two utility knives, one paring, bread and cooks knife the set is a complete package worth keeping in the kitchen.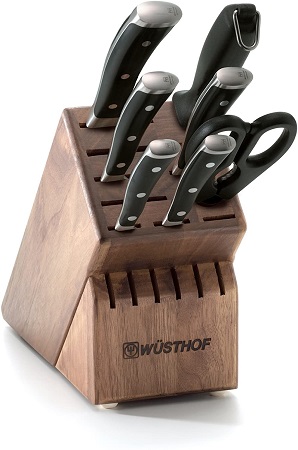 With a tapered design, the paring knife has a small and narrow blade. The blade is pointier and helps in slicing or peeling of small produce like onion, garlic. For the perfect and easy mincing the small 4 ½ inch knife is very useful.
Another utility knife is best for cutting and chopping any medium or larger vegetables. The bread knife has a longer blade and is easy for the serration of bread. Again the cook's knife serves all these purposes being the workhorse.
Pros
Comes with different sizes of different knives 

Knives are elegant in looking

Blade is dull and rust-free

Different knives serve different purposes

Handle is a synthetic material and black 

Cuts through effortlessly

Sharp and high edge retention

Comes with a woody block 
Cons
Knives are not dishwasher safe 

Woody block needs to keep away from water
Knife Set Specialty
This Wusthof knife set comes with different knives serving specific purposes for perfect cutting. The knife set offers you a great blend of all knives. The knives are made following the same strict laws. The steel blades are of different sizes and cuts with a rhythmic performance.
Bottom Line
If you want a whole package of every kind of knife then we suggest you this Wusthof Classic Ikon series knife block set. 
7.  WÜSTHOF Classic Twenty Piece Knife Block Set Review 
This one from Wusthof is a mega-beast to keep in your kitchen. With 20 pieces of Deluxe knives, the set comes with a massive appearance. The Walnut woodblock has 25 slots. The blades and handles are made following the same precision-forged method.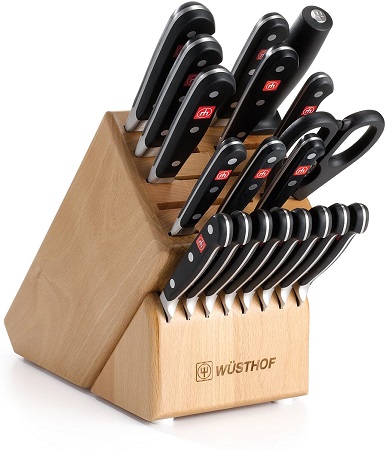 This one comes with a whole set from the Wusthof Classic series which is already recognized as the best-selling series. However, the set consists 3 ½ inches to 8 inches long blades of knives. You will get every kind of knife-like paring, utility, cook's, steak, hollow edged santoku and many more types of knives. 
All of them are best at the task they are made for. All the knife handles are contoured giving a perfect finish. 
Pros
Comes with 20 knife pieces 

The knives have separate blade sizes for different cutting tasks

Includes all kinds of necessary knives

Best for any cutting of fish, meat, cabbage, fruits or any vegetables

High edge retention

Manufactured by professional craftsmen 

Arrives with a woodblock
Cons
Requires proper care and hand wash
Knife Set Specialty
Like any other Wusthof knife block set this one is also special but gives you some more. Having this thing in your kitchen will create another level of vibe. If you love experimenting with food then certainly you need all kind of knives by your hand. This whole set just serves the exact purpose. 
Bottom Line
To have all in one kitchen arsenal you will not find any better deal than this. To decorate your kitchen with the Wusthof Knife Set will uplift your class in another graceful way.
FAQs to find Best Wusthof Knives
1. Why should one buy a Wusthof Knife? 
Well, Wusthof has never got out of trend. From its founding, it has been providing the best reliable knives to all the chefs out there. The knives are forged and made out of the best quality possible. Maintaining years of best knife-making methods the company never fails to amaze all the passionate cooks who prefer Wusthof in the very first place.
So, why are you lagging behind to grab the best one! 
2. Are the Wusthof Knife blades forged or stamped? 
All the Wusthof knife blades are precision-forged which means the blades are produced out of a single block of high carbon stain-resistant steel. To confirm strong steel to turn into a blade formation the repeating of heating and hammering has occurred.
Hence, the Wusthof blades are heavy-duty and at the same time higher in quality.
3. Do the knives come with a safety guard? 
Yes, most of the Wusthof knives are featured full bolster. This feature delivers safety to the knuckles and also creates a precise balance over the whole knife. The half bolster knives are also featured for better cutting and quick re-sharpening. 
Conclusion
It is our great pleasure to give you a detailed and deep review of the best Wusthof knives. As the company is highly recognized, respected and long-standing ever since its establishment, it deserves to be discussed thoroughly. Recommending you highly the Wusthof Classic Ikon Series Chef's Knife we leave you there for the rest of the decision. 
The whole article should help you with every answer of the questions you had in your mind. Choose any of them and let us know what you like the most about it!