There are handful French knives in the market with their distinctive design and feature. A French-style Knife is mostly shorter, thinner and kind of pointier. Hence, most of the chefs prefer French knife-like Sabatier to run their busy kitchen. But do you really know which French Knife Brand actually can fetch the utmost bang of your bucks?
Well, to furnish your knowledge more about the French knife we are here with the best French knife brand review! Many cooks out there choose a French knife over German knives because of their nimble and fast-cutting features. So, you also deserve to know which French brand knife will stand out of all your other kitchen knives without generating any hassle. 
Not making any delay to utter the name of the best brand we come up with the mighty 'Sabatier' knife. You might have seen among most of the French knives there is written 'Sabatier' on the surface. Are all these manufacturers named 'Sabatier'? If not, then why are these knife makers putting the name 'Sabatier' on them?
All these questions may seem mysterious to you. Clearing all your confusion we are going to provide you with the review of the best 'Sabatier' French knife brand big time!
Story of "Sabatier" Knives and Review
From the very beginning, two families known Sabatier first started manufacturing the Sabatier knife in their region of France. Basically, Sabatier is not a brand name rather the name Sabatier is predicted as the knife type, it's quality and production process. A large number of manufacturers in France also produce knives following the Sabatier production process.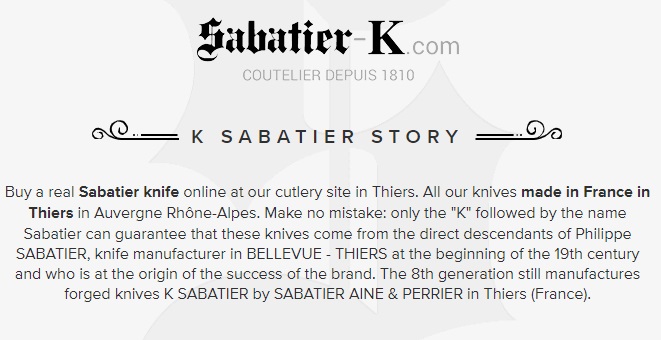 As the name was not legally protected by the actual inventor other manufacturers can easily use the name on their produced knife. These manufacturers are highly observed and regarded. Now many French knives are carrying the name legally with their registered full name or logo. 
However, a Sabatier knife is fully forged knife with a different production style. Theirs is the knife capital of France and it is the origin place of every French knife.
From the 19th century and its very beginning, totally two different families marketed their knife with the name Sabatier. The families didn't have any relation with each other except their craftsmanship and family name. Still, one of the families named Sabatiers of Bellevue is maintaining its legacy and surviving at the very same place of France naming their brand the Sabatier Perrier. 
Sabatier knives are made by the skilled and professional local craftsmen. More than 30 French knife makers put the Sabatier logo along with their additional brand identity. Thus, not all Sabatier knives you go through are of good in quality.
Some brands like Four Star Elephant Their Issard and K Sabatier offer high-end knives. A Sabatier knife should be forged with High Carbon Stainless Steel. There should be a Hardness Rockwell rate of at least 55 HRC. This way the blade seems hard and soft at the same time. The thin and soft blade is easy to sharpen.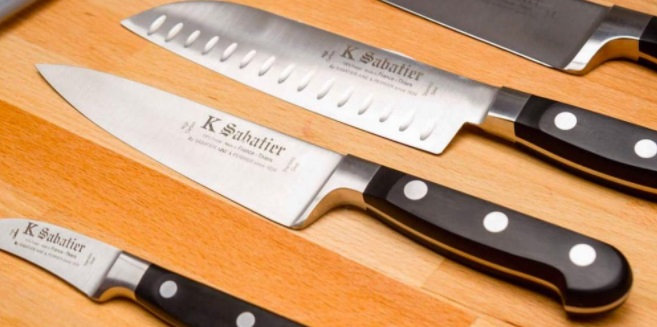 Till now K Sabatier Chef Knife is slaying the market. With Z50C13 high carbon stain-free steel the blade is forged maintaining all the special methods. The knife cuts super fast and for its high carbon material, it offers a nice balance between the chopping board and the knuckles. With less chipping problems the knife is worth keeping in your kitchen.
The Sabatier Knives handle is riveted with triple rivets both sides. Another ideal quality Sabatier knife is Sabatier Lion. With 58 to 60 rate of Hardness Rockwell this knife is superior in quality. Super edge sharpness, corrosion-free blade, full tang, heat treatment for the forging process and everything else has made this knife a masterpiece and kitchen-horse. 
3 Best Sabatier Knife In the Market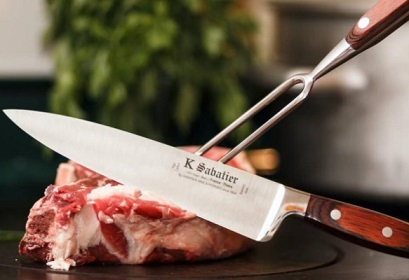 Sabatier Knives Specialty
From the early 19

th

century the Sabatier branded knives are made with full forged methods

The brand ensures blades of high carbon stain-resistant steel of different molecular composition like chromium, vanadium, molybdenum 

The Sabatier knife handle is made of ergonomic POM and comes with full silk giving an effortless fast cutting pleasure

Ensuring safeguard the Sabatier knife comes with bolster and full tang with three metal rivets

The brand manufactures knife with forging blade, tang and bolster in one piece

The knives are fully grinded and designed by hand and the sharpening is also done by the local skilled specialists.

The company trains a number of specialists only for making the  Sabatier knives
Design Sense and Quality of Sabatier Knives
The original Sabatier knife is recognized with its one-piece steel and riveted handle. However, the contemporary ones may also come with a handle of different steel and two rivets enhancing the whole design. No wonder, the original top quality Sabatier knife is still manufactured in Theirs.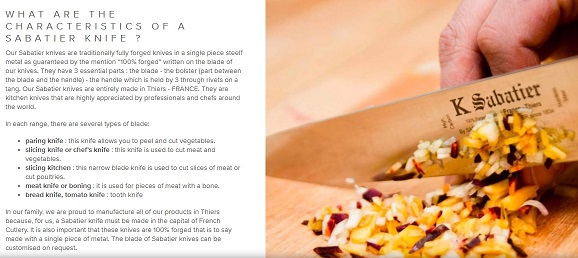 That is why even though you see other French knives carrying Sabatier on it you still find a huge difference in price ratio. You may be provoked by the low priced Sabatier knives but it is a known fact that a truly made Sabatier knife will cost you a bit from other German or Japanese knives. A Lion Sabatier is one of them. With the topnotch quality of steel, the best quality material possible is used to make one lit Sabatier knife.
The employees who are the specialists in making a real Sabatier Knife are way more dexterous and proficient than those who make poor quality Sabatier knife. 
The Sabatier knife is a French chef's knife that has a single-edged blade with a pronounced saber-style edge. It is often used for slicing and dicing.
Some of the best practices for choosing a Sabatier knife include:
Considering the type of cuisine you will be using the knife for. A Sabatier knife is best suited for slicing and dicing, so if you are mostly cooking meats or vegetables, a different type of knife may be more appropriate.
Pay attention to the blade length. A shorter blade is better for smaller tasks, while a longer blade is better for larger tasks.
Consider the weight and balance of the knife. A heavy knife will do more damage than a light one, but it can also be harder to control. A balanced knife is easier to handle and less likely to cause injury if it slips out of your hand.
Be sure to get a sabatier knife that is specifically designed for the task at hand. For example, a chef's knife is better for slicing meat, while a boning knife is better for removing bones.
Commom question and answer about Sabatier Knife:
What is the best Sabatier Knife for precision cutting?
A Sabatier Knife is a great option for precision cutting. They are typically made with a sharp, durable blade that is well-suited for slicing and dicing.
How to care Sabatier Knife?
To care for a Sabatier Knife, keep it sharp and clean. Sharpen the blade regularly and clean the knife with a sharpening steel or honing rod.
Is there a best Sabatier Knife for every task?
No, there is not a best Sabatier Knife for every task. The best Sabatier Knife for a particular task depends on the type of knife it is, the materials it is made from, and how well it is sharpened. Make sure to get a sabatier knife that is made from high quality, durable materials. Cheap sabatier knives will likely not last as long and may be difficult to sharpen.
Verdict
However, you should not be fooled or tricked by a knife producer if you see any tag with Sabatier or a low price mention on that. The versions that are made of inferior Sabatier are not the true ones yet some of them also come with some quality you may like. But according to the price you should not buy a mediocre one to save some bucks. It will only ruin your kitchen satisfaction. 
While some passionate cooks and knife enthusiasts are actually the fans of the French Sabatier knife instead of the trendy German or Japanese knives they must be on the best side. The excellent kind of Sabatier knives will give you fun and enjoyment for years. You will regret your choice falling for the cheap one having a Sabatier imprint on it.
 So, when you are out to buy an authentic Sabatier French knife fall for the true brand and right one doing minute research on the product.