(Last Updated On: January 31, 2022)
A chef with enough knowledge about knife and knife sets is the most impressive fact. As culinary is a huge part of even ordinary people, knife enthusiasts are keen to learn more about knives and their origin. However, apart from ordinary knives, there are some exclusive expensive knife sets available in the market. To provide you with some extraordinary pieces of information about the most expensive knife set, we have done a good deal of research.
These knife sets come from expensive knife brands but are totally worth it. If you are passionate about choosing a perfect knife to carve your food, then you should learn about these expensive knife companies and their exotic collections. A good-branded knife can dupe you easily if you don't possess enough knowledge about it. Checking the blade quality, handle material, different types of knives in a knife set is necessary for a perfect result. Let's talk about the expensive knife set for better understanding. 
What is the most expensive knife Set in the world?
Expensive knife sets mostly come with the guaranteed quality feature. But you can easily be deceived. Therefore, acquiring knowledge about the features of a solid and professional knife beforehand always will help to earn an extra point. Even some super expensive knife sets can carry major defects. That's why it's always wise to learn first and then experience a high-rated knife. Now let's jump into the main segment.
A list of most high-end knife sets are given below:
5 Super Expensive Knife Set Review in Detail
1. Zwilling J.A. Henckels Knife Block Set
We have chosen Zwilling J.A. Henckels Knife Block Set as the best expensive knife set and put it first on our list. This knife set includes 4 best knives with 9" steel. However, this knife set includes knives that are most important for your kitchen arsenal.
It includes an 8 inches big chef knife. The chef knife comes with an alloy steel-made blade. Besides the chef knife, you can have a 7" Santoku knife, 4" paring, 8" carving, 8" bread knife. All these knives are efficient enough to give you a full coverage cutting system.
The blades are ice-hardened FRIODUR. It increases the sharpness of the knives. Besides, it enhances the resilience and durability of the knives. You will get enough advantage in cutting with these precision-honed blades. On top of that, the edges of these blades are featured with a laser-control machine. 
You will get the exact angle to carve your food and will have the job done quickly. The whole set is carried by a magnetic easel block. To get optimum comfort with the best service, this knife set would the best option. Besides, the superior blades are highly corrosion-resistant.
Pros 
Highly demanding as a hand-finished knife set

The pleasure of getting optimum sharpness with a sturdy blade 

Laser-controlled edges don't get rusty easily

The advantage of using extremely resilient knives

Get more than 3 knives in one knife set

Precision-forged knives help you to have the perfect cutting process

100 times higher corrosion resistance ability than other knives
Cons 
Requires proper reservation 
Knife Set Specialty and Bottom Line
Zwilling J.A. Henckels Knife Block Set comes with very limited knives but these knives are the most necessary ones. You can cover all your cutting segments with this fantastic piece of a knife set. Overall, the professional and sophisticated look goes along with the tremendous features of the knives. 
2. Global 35th Anniversary Special Edition 7-Piece Knife Set [Most expensive Japanese knife Set]
This Global 35th Anniversary Special Edition 7-Piece Knife Set is one of the most expensive knife sets in Japan. With a classy appearance, you will get enough of this knife set. The blades of this knife set are made of Cromova 18 high carbon stainless steel.
With this premium quality of Global's exclusive, you can pull the most out of it. The 15 degrees cutting edge provide the right angle so you can do your job effortlessly. With a cook's knife, a bread knife, a vegetable knife, a peeling knife, a small cook knife, the set includes a total of 5 knives.
The stainless steel-made knife block comes with a great outlook. The knives come with special features. With the cook's knife, you can slice and dice with less effort. Besides, the bread knife does its performance swiftly without creating any damage.
And other knives also have several specialties. The whole structure of each knife is steel-based. Moreover, the storage system of these knives resists the knives from becoming dull and rusty. 
Pros 
Japan's one of the best knife sets

Provides the great appearance of knives and absolute service '

Each knife comes with their own specialties 

The acute 15-degree edge retention makes your job easy

The premium quality blade material ensures immense capacity

Helps you to do your job quickly 

Resist dirt and fungus to grow in the body of the handle and on the surface 
Cons 
Need to keep it away from children

It is not dishwasher safe 
Knife Set Specialty and Bottom Line
We chose this Global 35th Anniversary Special Edition 7-Piece knife set because it has the ability to be the reliable utensil of professionals. Besides, the authenticity of each knife is trustworthy. Overall, this knife set will have your back every time you fail to choose the best knife set in the market. 
3. KRAMER by ZWILLING Meiji Block Set
This KRAMER by ZWILLING Meiji Block Set is our favorite as it is all hand-crafted in Japan. You can have a huge collection of knives if you just bring this set home. It carries honing steel almost 12 inches long. For the blades, these knives relied on FC61 fantastic carbide steel.
Besides an 8" chef's knife, you can have a full taste of a utility knife, a paring knife, a slicing knife, and more. The magnificent design of these knives is demanding. Moreover, the storage block of the knives is really cool.v
It carries eight slots in total and the color of the block is also attractive. The blades are ice-hardened and guarantee you a long-time service. The core of the knife and its 100 layers of nickels enforce the capability of each knife. 
With enormous sharpness, durability, and perfect edge retention, you will find your job done within a moment. Even amateurs can handle these light-weighted knives with ease. The wooden grip of the handle won't let the knife slip off. Besides, the strong bolster holds the full tang blade and handle together. 
Pros 
The pleasure of using precision-forged, hand-crafted fine knives

Provides a tough core for a long term service 

The superior feature of each knife is cool to observe

The advantage of using versatile knives at a time

This set guarantees you much sharpness with acute edge retention

The wooden block provides enough space to keep the blades fresh 

The extreme grip of the handle enhances the ergonomic capacity 
Cons 
Requires much attention while using it 
Knife Set Specialty and Bottom Line
This KRAMER by ZWILLING Meiji Block Set brings this traditional vibe of Japan. With the effect of the wavy structure of the blade, it provides many advantages to the user. Overall, the block set with its vintage look brings enough facilities. 
4. Miyabi Black 5000MCD67 Knife Block Set
If the look of a knife set matters to you, then you can check out this Miyabi Black 5000MCD67 Knife Block Set. Miyabi brand has always been a reliable knife brand for many professional chefs. Their knife block set is also efficient like their individual cook's knife. 
You can have 8 pieces of knives at a time. Among these 8 pieces, there is a prep knife, a bread knife, a paring knife, a chef knife, and so on. These full-tang knives come in a Miyabi Single Magnetic Easel. This is made with red oak and walnut tree.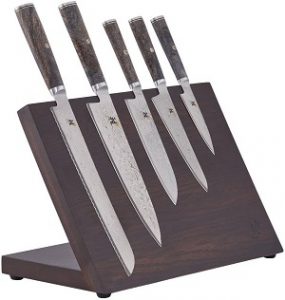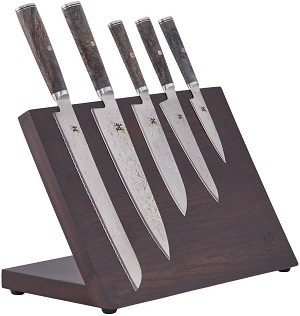 The hardcore of these knives and their 133 layers make the knife strong and bold enough to tackle any hard edible in the kitchen. Besides, the design of the knives is of different levels. It looks beautiful when your knives come with a floral Damascus pattern.
However, the blades are made of MC66 MicroCarbide steel and they possess 66 Rockwell hardness. For providing absolute grip, the handles are D-shaped knives. The handle is black ash in color and looks gorgeous. 
These knives are made following the traditional three-step Honbazuke method. This method makes the edges of the knives super sharp. They also last for a longer period of time. The wooden handles secure the safety of the users. And the ergonomic feature embodies the quality of the knives. 
Pros
Best knife set for users who want a fatigue-free journey 

The tremendous color combination brightens up your kitchen 

The ergonomic style of the knives ensures safety

The pleasure of using more than 5 knives in one block set

The Damascus flower pattern looks beautiful on the knives

Extremely maneuverable and hand-crafted knife set

The unique design of the block set carries enough slots to preserve the knives
Cons '
Requires much space in the kitchen 
Knife Set Specialty and Bottom Line
If you want some unique piece of the collection in your kitchen, bring this Miyabi Black 5000MCD67 Knife Block Set and take full advantage of it. With a unique design and versatile knife, the collection makes your kitchen life ultra-sophisticated. 
5. Shun Premier Knife Block Set [ Most Populer Knife Set]
Shun is a renowned Japanese knife brand and that's why we didn't forget to include a top-notch knife set from this brand. We selected Shun Premier Knife Block Set as the best one from Shun brand as it brings proficient knives. 
You can have a full package of 15 knives in this set including a steak knife, kitchen shears, and all sorts of knives. Half of your kitchen utensil is carried by this block set. From the quality, no other Japanese brand can beat Shun. Their precision-forged and stainless steel-made blades are high-end in quality.
With VG-MAX steel core the hardness of the knives is almost 60-61 HRC. These knives have a full tang handle and they are made with Pakkawood. The 16-degree edge retention of these knives increases the positive feature of the knives.
All these knives had to go through a hammered Tsuchime finish in order to provide a precise cutting feature. These knives are also applicable for left-handed users. Much help can be brought out from these knives.
Pros 
Get extra sharpness and perfect edge retention

Suitable both for the left-handed users and the right-handed users

Contoured walnut Pakkawood handle knows how to satisfy the users

A perfect balance in core and clad of the knives makes them more efficient 

Hand-crafted for an extra polished edge

No rust and corrosion would appear for a longer period
Cons 
Not dishwasher safe and requires hand wash only
Knife Set Specialty and Bottom Line
Shun Premier knife block set with its 15 unique pieces of knives attracts many knife enthusiasts. It fills the kitchen with its efficiency and diversity. Overall, it gives all facilities that you need to cut an edible. 
FAQs on Most Expensive Knife Set 
1. What is the most expensive knife set? 
There are several super expensive knife sets available in the market. But what we prefer most is the ZWILLING J.A. Henckels Knife Block Set. As we have said before, the knives of this set not only carry absolute features, they are durable, sharp, classy, and most importantly, easy to preserve and use.
2. What is the most expensive knife in the world? 
As a knife is one of the mainstays of a kitchen, many famous brands manufacture knives that are extremely expensive and user-friendly at the same time. It's actually tough to determine which knife is the most expensive as there are several countries that are obsessed with manufacturing the best knife at the best price. However, the Gem of the Orient is a knife that is worth almost 2.1 million USD and claims to be the most expensive knife of all time. 
3. Are these knife sets worth buying? 
It is definitely thrilling to experience new things no matter if it's in the culinary segment. The knife sets we've mentioned before come with varieties and diversity. A passionate chef would definitely be charmed by these knife sets. Therefore, to get new experience and a successful journey, buying these knife sets are absolutely worth it.
Final Words
In fines, these most expensive knife sets allow the chef to experience different types of knives. And in this way, they can be acquainted with new techniques of cutting and the process of using a single knife in several ways. 
Therefore, we would always recommend you to make the best decision so your money and time do not go wasted easily. Learn about these knives more deeply and make yourself ready to have a whole new experience in the knife world.