(Last Updated On: March 16, 2023)
German knives are most likely to be placed on the top of your list when you think of buying a kitchen knife. Because of their skillful craftsmanship and incredible price value they are considered as one of the best knife lines in the cutlery market. However, the Best German knives are way ahead of such qualities and always offering some extra.
But have you ever wondered knowing that your German knife is not giving you the best that it actually should? It is simply because not all branded German knives are worth buying. If you yet not have gone through the Best German knives then lucky you, we have brought you a lucid review of the best German knives in this whole article!
List of Best Of Best German Knives 2022
Bless your eyes giving a minute look to our whole review and be acknowledged about your needs and see which one of these high-quality German knives can meet them.
Quick Comparison of 7 Best German Knives
Some people who are not even a bit interested in knives or never really researched on them also heard the names of some of the popular German knife brands. It's obvious when a brand making a high-quality product for decades at their epicenter of manufacturing a knife. Let's meet the knives along with their pros, cons and comparison among them.
Name Of Best German Knife
Weight
Size
Blade
Handle
Tang
1. Wusthof Classic Chef's Knife

8 Oz

8"

High carbon stainless steel

Synthetic material

Full

2.

Henckels Zwilling Pro -8″ Chef's Knife

6.4 Oz

8"

Stainless steel

POM

Full

3.

Messermeister Oliva Elite Professional Kitchen Knife

12.8 Oz

8"

German 1.4116 High carbon no-stain steel

POM

Full

4.

WÜSTHOF CLASSIC IKON 8 Inch Chef's Knife

9.6 Oz

8"

German 1.4116 high carbon steel

POM

Full

5.

Messermeister Meridian Elite Chef's Knife

9 Oz

8"

High carbon stainless steel

Synthetic material 

Full

6.ZWILLING Professional "S" Chef's Knife

9.8 Oz

8"

High carbon no stain steel

POM

Full

7.Dlastrong Gladiator Series Chef's Knife 

9.2 Oz

6"

High carbon German Steel

Pakkawood

Full
Best German Knives Review In Detail
1. WUSTHOF Classic Chef's knife Review
The family-owned company Wusthof is slaying the knife market generations after generations with their variety of knife lines. They are recognized for their huge fame and reputation for qualitative reliable knives. Among them, the Wusthof Classic Chef's Knife undoubtedly stands out of all other knives.
This knife specially made for all the professional chefs out there who run a busy kitchen and don't want their knife to create any extra trouble. Having this knife is not any luxury, in fact, it is a need. This classic series knife manufactured forging a single block of stain-free steel. The steel is of high carbon, thus, the blade is hard and sturdy.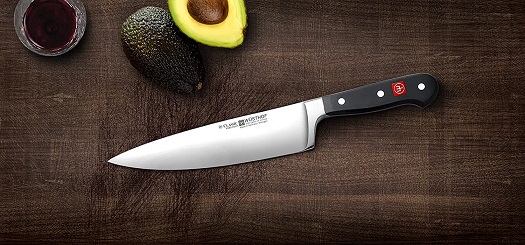 Undergoing the tempering processes the knife possesses a hardness Rockwell of 58 degrees. The edge is honed by the Precision Edge technology which ensures 20 percent more edge sharpness of and double edge retention than early models.
The handle is ergonomic for its synthetic material and designed to give a comfortable shape. Overall, this Wusthof knife represents tradition, art and standard of its origin. 
Pros
Lightweight, suitable for both beginners and professionals

All-purpose knife can be used for any cutting tasks

Best for chopping, mincing, dicing, slicing 

Has double edge retention and evil sharpness 

Flexible, well balanced and handy

Full tang and full bolster 

Comes with safety guard 

Blade and handle are resistant to rust, discoloration and fading
Cons
Needs hand wash and proper care 

Doesn't come with a sheath
Knife Specialty
The knife is specially manufactured considering all-purpose distinction. To manufacture one Wusthof classic knife it has to go under hundreds of strict methods and finally when it meets the standard quality it is up for selling. Hence, this series is the best-selling series of Wusthof. 
Bottom Line
Choosing the Wusthof Classic Chef's Knife can never go wrong. Though the 8-inch knife comes weighing only 8 ounces, it will be the king of your kitchen as soon as you start using.
2. Henckels Zwilling Pro Chef's Knife Review
You will hardly find people never heard of the name Henckels Zwilling. This company is serving over years with their great collection of knife series to its customers. Among them, the Henckels Zwilling Pro 8" Chef's Knife is mostly highlighted and recommended.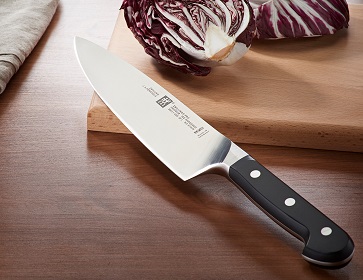 The knife is engineered with a front that is a bit leaned. Hence, the whole knife is not fully balanced yet its robust handle gives a satisfying feeling while placed on your grip. The tip of the blade is highly pointed and the bolster has an aerodynamic shape. 
The knife is modernized with all essentials of an inevitable European knife. The blade is hard and thin because of its perfect blend of high carbon and no-stain steel. The special Friodur ice-hardening process and the SIGMAFORGE precision forging gives the knife all versatility possible. 
Breezing through all kind of challenges the whole knife is intricately engineered. The knife is bound to serve you for years in your kitchen without creating any trouble.
Pros
Modernized with ergonomic design

Suitable for chopping, slicing, dicing 

Pointy precision and exquisitely engineered 

Edge is super sharp and 57 HRC

The handle is resilient and resistant to water and discoloration

Great edge retention, flexible

Offers pinch grip 

Easy to re-sharpen
Cons
The knife is a bit heavy

Hand wash and proper care are required

Edge is less durable
Knife Specialty
The whole knife has to undergo a special kind of method to achieve the best versatility. The curved aerodynamic bolster is sleek and offers all safety. The Sigma-forge technique is required for saving the blade while heating only the bolster. The Friodur tempering process brings immense flexibility to the knife while cutting. 
Bottom Line
To get the best bang out of your money, Henckels Zwilling Pro 8" Chef's Knife is the best option. Your kitchen deserves to be decorated with this expensiveness.
3.

Messermeister Oliva Elite Professional Kitchen Knife Review
After Wusthof Classic Chef's Knife the one which attracted us the most with its exquisite natural distinction is the Olivia Elite knife line of Messermeister. This chef's knife is designed with a unique and exclusive appearance.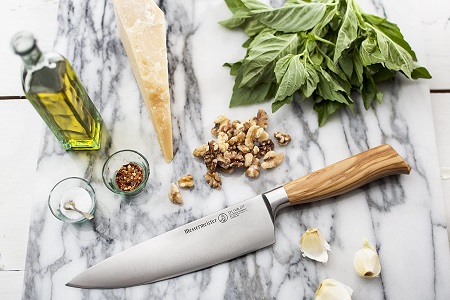 The Olivia wood handle comes with a lucid golden brown color. The knife is truly forged with the thinnest German 1.4116 stainless steel alloy. From the tip of the blade to its bolster and straight tang are made one piece. 
The hammer-forged blade is super thin and processed under heat treatment and then cooled treatment to get the best HRC of 57-58 degrees. The edge is hand-honed and comes with extremely thin sharpness.
Pros
Lightweight and excellent appearance

Handle is comfortable and ensures safeguard for pinch grip

Comes with a standard HRC and an edge angle of 15 degree

Razor-sharp edge and superior edge retention

Suitable for any kitchen cutting task

Best for dicing, mincing, slicing

Well balanced, flexible and easy to use

Blade is corrosion and rusts free
Cons
Requires hand wash 

The handle needs extra care and should be dry storage
Knife Specialty
This Olivia Elite chef's knife of Messermeister is one of the best knives that come with an original forged wood handle. With the most sharpness possible the knife empowers heirloom quality and its pride. This one comes without bolster offering the use of the whole blade to its user. 
Bottom Line
Overall, the Messermeister Olivia Elite Stealth Professional Chef's Kitchen Knife is a multipurpose knife. Being the best for decades this German knife is terribly good at everything.
4.

WÜSTHOF CLASSIC IKON Chef's Knife Review
Another reliable and trustable Wusthof knife is its Classic Ikon Chef's Knife. As Wusthof's knives mostly come in an all-purpose solution this one too is any not different. Being your kitchen workhorse the knife can be used for every cutting purpose.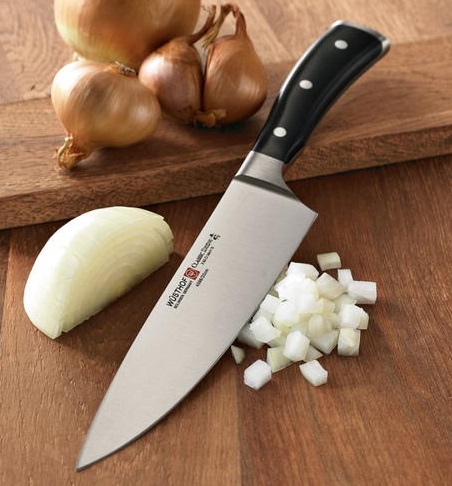 Featuring with double bolster design the knife is sleek, smooth and sturdy. The handle represents actual sophistication adds some extra to this Classic Ikon series. The quality-perfected knife offers an ultimate cutting sagacity. 
To get a heft for professional use the knife possesses some exclusive features. As usual, the knife is forged with high carbon stainless steel. The hardness Rockwell rate is just perfect and the edge is sharpened from PEtec.
Meeting all your kitchen needs the knife nails down cutting all meat, veggies and other edibles. 
Pros
Comes weighing 9 ounces and handy

Precision-forged, intricately manufactured 

Suitable for cutting fruits, meats and veggies 

Full tang and triple rivets 

Edge is super sharp and high edge retention 

The handle is ergonomic and sophisticated 

Blade is hard, sleek and rusts free
Cons
Hand wash must 

Doesn't come with a cover
Knife Specialty
To give the knife an exceptional balance it is engineered with a double bolster. Thus, the knife gets a perfect blend of art, balance and performance. From PEtec the knife gets an extensive high cutting performance out of the box. 
Bottom Line
Giving a solid special finish with a unique disc the knife is consistent and highly compatible in your busy kitchen. You can never go wrong with Wusthof Classic Ikon chef's knife.
5. Messermeister Meridian Elite Chef's Knife Review
Another Messermeister knife on which we have stuck again is its Meridian Elite series chef's knife. This German knife is also rooted in the very same Solingen place. The popular drop hammer forged knife doesn't lag any revered from those Wusthof or Henckels German knives.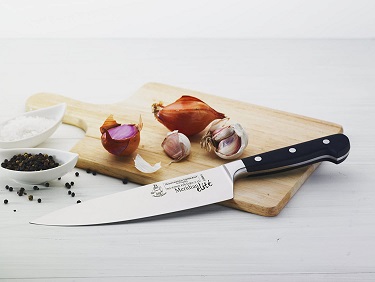 The one-piece knife line is made following all the strict process of making the best Messermeister knife. The single block of the finest German high carbon stain-free alloy blade is the signature blade material of this knife brand. 
The blade comes with evil sharpness and perfect HRC after being processed with tempering and then cooling treatment. The edge is recognized by 'Elite' which is hand sharpened on a cloth wheel. The heel is strong and bolsters simplifying all cutting and resharpening tasks. 
The knife craftsmanship is done with skilled and professional craftsmen. Giving superior satisfaction the knife offers a lifetime warranty.
Pros
Looks great and can be used by both noob and pro

The blade is tough, strong and durable

15 degree 'Elite' Edge and has sassy sharpness

Supreme edge retention and flexibility

The blade is rust, corrosion and stain-free

Cuts, chops, slices, dices easily 

Finishing is fully handcrafted 

Easy re-honing process

Comes with a lifetime warranty 
Cons
Requires proper maintenance and hand wash

Doesn't come with a sheath
Knife Specialty 
The knife possesses a partial bolster which is a configuration that Messermeister made first even before Henckels and Wusthof brand. With an 'Elite' sassy edge and ergonomic handle the whole knife reflects professionalism, art and tradition. 
Bottom Line
This 8-inch Messermeister German knife is an actual knife that slays your kitchen. Going behind the trend and buying this knife would not be a loss project at all.
6. ZWILLING Professional "S" Chef's Knife Review
This professional S chef's knife of Zwilling is one-piece construction. This one is a gem of Zwilling that comes with all special features that the company provides with. This specially made Professional "S" has special proprietary formula no-stain steel.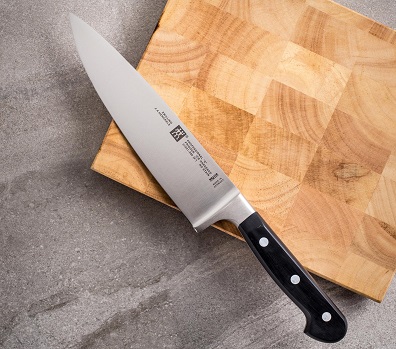 The steel is forged on the sigma forge knife which has been given perfection for over 280 years. The Friodur processed blade is hard, thin and sharp. With the ice-hardening method, the blade achieves the ultimate performance power. 
Having an edge angle of 15 degrees on both sides the knife has balanced HRC and edge retention. The edge has a laser control feature and precise sharpness. With an ideal cutting angle the blade and handle is just perfectly built. 
Pros
Great arsenal, handy

Suitable for any kitchen cutting

Flexible and well balanced 

Edge is razor-sharp and durable 

Great edge retention 

Full tang and connected with three rivets

Easy to hold and cut

Cuts effortlessly 

Doesn't chip and easy maintenance 
Cons
Hand wash is suggested

A bit heavy 
Knife Specialty
Bring up all your kitchen activity the knife is a game-changer. The knife is heavier yet comes with a proper distribution and balancing system. This Pro S series from the get-go is heavy in the handle but gradually it becomes the most comfortable tool in your kitchen. 
Bottom Line
Owning a five-star rating the knife is in the list of every knife enthusiast. Getting one for your kitchen is worth the investment.
7. DALSTRONG Gladiator Series Chef Knife Review
With outstanding craftsmanship, the Dalstrong Gladiator Series knife is our last but not the least German Knife choice. The whole design of the knife has achieved awards for several times. The materials of the knife are premium and high-end.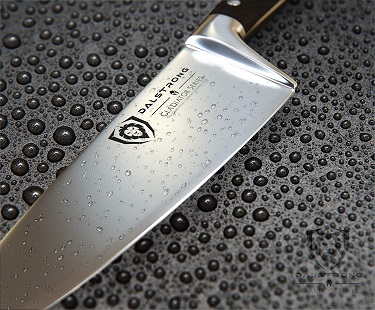 The blade is of German high carbon steel and the edge is hand polished both sides perfectly at the angle of 14 to 16 degrees. With a satisfying heft the knife cuts with absolute rhythm. To ensure maximum maneuverability and comfort the handle material is made from imported Pakkawood.
To adapt to the busy kitchen and to run give a comfortable grip handle is finely polished and laminated. The sanitary handle eases your work and fastens it too. 
With a satin finish, the knife is manufactured to perfection. The tapered design and triple-riveted handle is engraved with a Dalstrong center rivet. The knife is wide, robust and sleek.
Pros
Comes with the tall blade height 

Eases chopping and food preparation

Cuts through every edible

Tempered precisely 

Blade is a precisely tempered and sharp edge

Super edge retention and tapered design

Full tang and safeguard bolster

Re-hones easily 

Comes with a Dalstrong sheath 
Cons
Needs proper maintenance 

Needs to be careful while using
Knife Specialty
Everything about this knife is special. The premium quality material and unique engineering has given it distinction decades ahead. With counterbalance, the knife possesses smooth performance. Overall, the knife is a true fun to use.
Bottom Line
This 6-inch Dalstrong Gladiator Series Chef's Knife is the real kitchen horse. Investing on this robust knife is the wisest decision you can ever take.
FAQs on Best Germany Knives:
Why should one buy a German Knife?
Many become when they want to buy a knife as most brands have their own traditional value. However, the German knives are made with high carbon steel that is absolutely rust and corrosion-free as it contains chromium in it. The blades are hard and unlikely to be chipped or broken down. 
With best cutting performance the best German knives are approved by cooks and chefs all over the world. Hence, for your home kitchen too the knives will play an appreciable role.
Are the blades and handles of the German knives any good?
Undoubtedly! The best German knives have blades that are hard and have a gentle pointy shape. With a distinct curve, the blades give a rhythmic source while cutting. The handles are also made of premium quality material with a polished finish. The handles are ergonomic and require low maintenance. 
Do the best German Knives have standard bevels?
Surely they do. The German knives are given the wider bevel of an angle about 20 to 25 degrees. That indicates almost 40 to 50 degrees along with the blade knife. Combining this wider bevel to their total mass and weight they create a force together to cut through tougher and thicker objects.
What is the difference between a German knife and a Swiss knife?
A German knife is typically made from higher-quality steel than a Swiss knife, which makes them stronger and more durable. Additionally, German knives are often equipped with more specialized features, such as serrated edges or gut hooks, that make them better suited for specific tasks.
If you're looking for a high-quality, durable knife that can handle a variety of tasks, a German knife may be the best option for you.
Which is the best time of year to buy a German knife?
The best time of year to buy a German knife is typically in the fall or winter, when the prices are lower.
When purchasing a German knife, it is important to consider the following factors:
Wipe down the blade and handle with a cloth after each use.
Store the knife in a sheath or case when not in use.
Choose a German knife that is suited for your specific needs.
Henckels, Wusthof, and Gerber are some of the most popular German knife brands.
Henckels knives are known for their high quality and durability, while Wusthof knives are known for their precision and versatility.
Boker is a brand that specializes in outdoor gear, but they also make high-quality German knives.
Is it worth investing in a high-quality, German-made kitchen knife set?
There is no one-size-fits-all answer to this question, as the quality and features of German kitchen knife sets will vary depending on your specific needs and preferences. However, if you are looking for a set of knives that will last for years, it is worth investing in a high-quality German-made kitchen knife set.
Do I need to be skilled in using a German kitchen knife to get good results?
No, not necessarily. In fact, many German kitchen knives are designed for novice chefs and everyday cooks alike. However, if you are looking for a set of knives that will give you consistent results every time you use them, it is worth investing in a high-quality German-made kitchen knife set.
Is there anything else I should know about buying or using a German knife?
German knives are typically considered to be of higher quality than many western knives, and they are often preferred for more specialized tasks such as butchering or carving. Some of the most popular German knife brands include Wusthof, Henckels, and Schrade. If you are experienced in using one type of kitchen knife, you may find that using a German knife is easier because of the specific design features that make them special. It is generally not worth investing in a high-quality, German-made kitchen knife set unless you plan to use them frequently, as they are not typically as cost-effective as other types of kitchen knives.
Wrap Up
With perfect blade shape, bolster configuration, ergonomic handle and everything else a German knife is a complete one-piece kitchen arsenal. Wrapped with the best possible quality materials its premium craftsmanship owns all credit. Recommending you the Wusthof Classic 8 Inch Chef's Knife highly we leave you there to think of your needs. 
Hopefully, all these best German knives are qualified enough to be placed in your kitchen. These knives empower versatile skills wanted by every chef out there. So, choose one of these best masterpieces and bless your kitchen, cooking and especially your mind. Also, let us know which one you've grabbed that lifted your cooking passion up.