(Last Updated On: April 16, 2022)
Most probably, this is one of the most asked questions on the internet asking about the differences between Zwilling and JA Henckels. Both the brands are popular and most renowned worldwide. However, among many of their products including different kitchen cutlery, fry pans, cookware, and all, they are mostly famous for their kitchen knife production. Now, if you are still stuck to this article then you also might be confused about these two brands. And, surely you want to know the main difference between Zwilling knives and JA Henckels Knives.
Both brands offer a wide range of high-quality knives to their customers across the world. Now, to clear your doubt at this point, we would like to inform you that both the brands Zwilling and JA Henckels come from the same reputed company. But, knowing this only is not enough. Stick around us to know more!
Zwilling VS J A Henckels Knives [ Is that the same Company? ]
Zwilling and JA Henckels produce knives under a single company. But, what really differentiates them from each other are their prices and the materials of the knives. For over 250 years, these brands are producing knives in the knife city Solingen of Germany. Being the global symbol of excellence, they are slaying the cutlery industry. With advanced technology and precision manufacturing, the brands are considered the industry leaders.
Zwilling
Zwilling is a German brand and the word Zwilling is also a German word. Zwilling means twins in English. You can easily match the name with their double man logo. You will see this logo to be stuck on all the products of Zwilling JA Henckels. However, Zwilling is the first brand established in 1731. With the passing of time and its good performance, it badly needed to start new brands under it to grow more.
Also, Zwilling thought to produce versatile products that come in different price ranges. Hence, you can see the result recognizing some of its brands including Miyabi, Zwilling, Demeyer, BSF, JA Henckels, and so on. Among all of the brands till now the best are Zwilling and JA Henckels. However, Zwilling is the name of the premium brand.
JA Henckels International
JA Henckels International was established in 1895 under the same company. The main purpose of establishing this brand was to broaden their customer and widen their industry to meet audiences all over the world. However, Henckels logo is different from the Zwilling but they are also similar in a way. Henckels products come with a single-man logo called Halberdier.
This brand is introduced to the people that come with different budgets. Like Zwilling, J.A. Henckels International also produces cookware sets, gadgets, flatware, and of course knife blocks of top quality. To provide the same standard at a lower price, JA Henckels products are manufactured in lower-cost factories.
What is the main difference between Zwilling and Henckels Knives?
Brand Strategy
Zwilling produces knives that are higher-end, well-performed, and come at premium price ranges. The company emphasizes the performance and efficiency of the knives because to them performance matters. Meeting the exacting standards Zwilling knives are extraordinary.
J.A. Henckels brand was launched with a value-driven strategy. It is established thinking the consumers of all budget types. Hence, Henckels come with knives that are stuffed with the same materials and standards. However, the only difference the JA Henckels knives bring is that the production method is lower-cost.
Knife Type
Most of the Zwilling knives are forged knives and very few of them are stamped. Forged knives require more skilled and professional craftsmanship. The process also requires advanced technology.
However, like the Zwilling knives, Henckels International also designs every knife. Though most of its knife lines come with stamped knives, you can find forged ones as well. Its Premio and Forged Synergy lines deliver forged knives to its customers.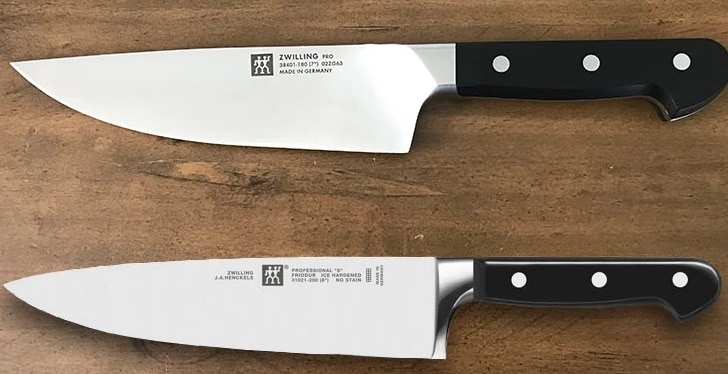 Knife Lines
Till now Zwilling line-up comes with versatile knife series. Some of them are Twin Select, Twin Series, Five Star, Four Star, Twin Professional "S", and others. All these are forged knives. However, the Twin Signature and Twin Gourmet knives are stamped.
There are some knife series available from JA Henckels. They are Eversharp Pro, Classic, Fine edge Pro, Everedge Plus, Fine Edge Synergy, and all. These knives are made in different countries. Nonetheless, the forged knives have German steel blades. Overall, the JA Henckels knives come at a great price value.
Material and Production Method
While Zwilling knives are of high-end material and come in an expensive rate, JA Henckels knives on the contrary come with the same quality material but at a low price. Also, most of the Zwilling knives are forged knives and all of them go under the Friodur ice-hardening technology. On the other hand, JA Henckels knives are mostly stamped even though the blades are made of high-carbon stain-free steel.
Again, all the Zwilling knives are made in Solingen, Germany. On the contrary, Henckels International knives are manufactured mostly in China and Spain. You will also find them being manufactured in Thailand, Spain, Japan, and other countries. Its forged knives are made in China.
Brand Specialty
Zwilling knives never compromise with the production method and the company always goes for advanced technology. For ensuring the longevity and strength of the knives, all the Zwilling knives go under the Friodur ice-hardened process. The knife blades are also made of the company's own formulized and special high-carbon stainless German steel.
On the other hand, JA Henckels also try to ensure products that deliver great price value. Their knives are also their own design and for their affordability J.A. Henckels knives are famous.
Warranty
Zwilling knives stand out of all other knife brands because it provides a lifetime warranty on their knives. It is not exceptional in the case of JA Henckels. It also comes with knife lines that are fully guaranteed against any material or craftsmanship defects.
Which is better Zwilling or JA Henckels?
Now, you already know the main differences between these two brands. Both the brands are equally doing great in the knife industry with their different business strategy. Though the brand Henckels produces knives with the best materials possible yet they are not as same as the Zwilling knife materials. Hence, there will always be some differences.
You will also see some differences in the manufacturing technique and the production technology. However, if you want a premium quality knife and ready to pay for its premium range then you should always go for the Zwilling Knives.

In the case of reputation, JA Henckels doesn't lag anyway. If you want a budget knife and a well-branded knife at the same time then JA Henckels will be a good option.
Final Words
After all these, only you know which knife will be more suitable for your kitchen. Even though there are certain differences between the brands Zwilling and JA Henckels International yet they are equally known brands. Both of them launch versatile ranges of knife lines according to your use, budget, and requirements.
So, whether you choose a Zwilling knife or a JA Henckels knife, you will always get the best bang out of your investment. Now, you decide which one to choose, and let us know if you are acknowledged enough about the differences between the Zwilling knives and JA Henckels Knives.