(Last Updated On: September 21, 2022)
Only a fish and meat lover knows the importance of a fillet knife. If you are a passionate cook and want your kitchen accessories to be used for the right purpose then surely you own a fillet knife. But the question is, does your knife fulfill your satisfaction? A perfect fillet knife should empower the perfect boning efficiency, especially with fish.
There are many fillet knives in the market. But you have to choose the one that will serve all the filleting purposes and last long. For your convenient decision, after a whole bunch of researching, we have come up with the Wusthof Classic Fillet Knife. We do not choose to say that, this is the best fillet knife rather we would like to say that this knife is worth giving a shot.
Why? Let's talk all the details about Wusthof Classic 7 Inch Fillet knife and see if this knife can convince you or not.
Top 3 best wusthof fillet Knife
WÜSTHOF Classic 7 Inch Fillet Knife with Leather Sheath | Thin 7″ Fish Fillet Knife
class="cg-cb-title">Wusthof Classic IKON Fillet Knife, One Size, Black, Stainless
Wusthof Classic Fillet Knife Review in Detail
A fitting fillet knife is considered unabridged when it easily positioned on top and lays in between the skin of the meat or fish. After all successful fishing trips, the perfect filleting of fish is required. Thus, without the fillet knife the process becomes slow, harder and dangerous. Now, I will guide you with all the aspects of the Wusthof Classic Fillet Knife.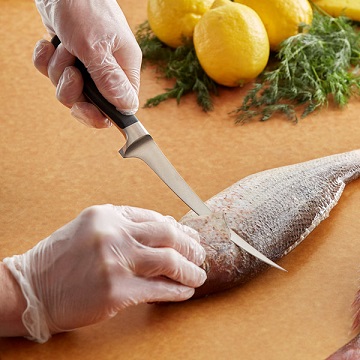 As a fillet knife is something off bit and different from the other knives, its materials should be special too. Comparing to the other kitchen knife it possesses different shapes and features. Now we get to see that if the Wusthof Fillet knife manufacturers have designed it in a best aligns or not.
Blade and Materials Review
In a normal kitchen knife we see if the blade is thick and rigid or not. But in a fillet knife these things are not necessary rather we choose a fillet knife considering the precision and thinness of the blade. Wusthof classic fillet knife offers a forged blade that is high carbon stainless steel. Through several hardening and tempering process in 58 degree HRC the blade is being manufactured. 
The blade comes with the size of 7 inch which is considered to be standard in size and the blade size fits in everyone's need too. According to this size the durability, flexibility, weight and behavior of the whole knife can be determined. 
Edge of Wusthof classic fillet knife
To cut any kind of meat or fish the edge of the knife should sharp as a scalpel. The Wusthof classic fillet knife blade has PEtec edge with 20 percent sharpness. The sharpness delivers edge retention that is double from the previous ones.
Though the fish meat is softer compared to the other animal flesh, this knife handles the process quietly with its thin cutting edge. Processed with 58 degree Rockwell hardness scale allows a longer sharpness holding of the edge than the blade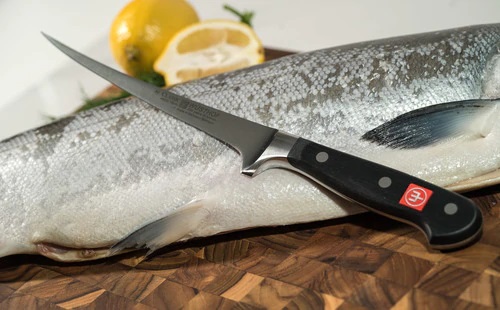 The cutting performance of the edge is quite extreme, unique and highly consistent. Moreover, the edge is given a special final disc polishing that increases its overall blade quality. The German knife is manufactured with a blade suitable not only for filleting and boning but also for mincing, chopping, dicing, slicing and all.
Handle and comfortability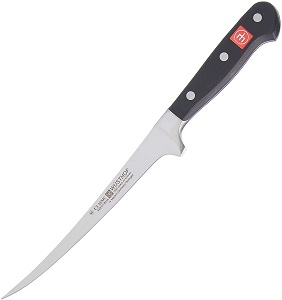 The handle of the Wusthof fillet knife is attractive with its traditional look. The handle is synthetic polypropylene or polyoxymethylene that is highly durable. The material is exclusive that resist the handle from heat, discoloration and fading. The color of the handle is black and curved a bit at the end.
The curvy not so robust handle of the Wusthof classic fillet knife places easily on the grip. Thus, thin slicing, filleting and boning of the fish become an easier job to do.
Design of Wusthof fillet knife
We see a drastic difference in the design of the fillet knife than the other knives. As filleting a fish is a tricky process, the equipment needs to be designed trickily as well. Thus, flexibility of the knife is very important. Considering length, thickness and flexibility, Wusthof Classic Fillet Knife is designed altogether. 
The knife is standard in size and designed with curvy structures on its blade and handle. The knife is also full tang and the handle has rivets connecting the blade to the handle. The bolster is also covered guarding the holder's fingers. The color of the knife also has a traditional look. Overall, the knife is aesthetically a piece of art.
User Experience
Our research says that, the buyers who reviewed this product are not disappointed at all. The craftsmanship, design, sharpness and everything of this knife is satisfying to them. Moreover, most of them found it easy to sharpen again with any whetstone. The knife has evil sharpness. So, they need to be more careful with its use otherwise there would be some possibility of an accident. 
Warranty
The Wusthof Fillet Knife manufacturer offers a limited lifetime warranty. 
Pros
Easy for filleting and boning of meats and fishes

Comes with only the weight of 12.3 ounces

Handy and easy to cut

Also can be used in mincing, chopping, dicing and all

Comes with 58 degree Rockwell Hardness scale

Edge retention is double 

Well balanced and flexible

Lasts long and comes with a sheath

Designed in a tricky way

Comfortable in using
Cons
Not suitable for dishwashing

Needs to be cleaned and dry storage after using

Not suitable for the beginners 
FAQ's on Wusthof Fillet Knife Review
1. Why should one buy a Wusthof Fillet Knife?
Well having a fillet knife as a kitchenware is very important and we all know that. Especially in a restaurant a sushi chef must have the best fillet knife available in the market. Wusthof Classic Fillet Knife indeed a great choice of a chef as this knife is designed perfectly for filleting.
Filleting a fish requires immense practices and with a Wusthof fillet knife it becomes easier. Thus, to acquire this term of art one should buy a Wusthof classic fillet knife. 
2. Are the edge and length of the Wusthof Fillet Knife standard?  
Typically a fish fillet blade is rated over fifty HRC considering mid-grade hardness. This amount of Rockwell hardness scale shows a sharp edge that lasts longer than the blades possessed rating lower than that. As the Wusthof Fillet knife has 58 degrees HRC, it is considered to be holding a standard edge. 
And to speak about the length, the Wusthof Fillets knife has a 7 inch blade which falls upon the standard fillet blade ranges from 4 to 11 inch. So, definitely, both the edge and length of the Wusthof Fillet Knife are standard. 
3. Does it come with a sheath?  
Yes, the Wusthof classic fillet knife comes with a beautiful black colored leather sheath. As, the blade has an evil sharpening power, the leather sheath comes with it for the proper cautions. 
Wrap Up
Filleting a fish is not an easy task. For the job a knife of fillet blade with sufficient flex on it is necessary. Wusthof Classic Fillet Knife consecrates a fillet blade that needs only one swift stroke to have perfect pieces of meats. I am not ensuring a hundred percent control over your cut as it partly depends on your experience. But definitely, this knife delivers you a great deal of maneuverability for its modest level of flex. 
Thus, the overall internal and external design of the knife supports you while filleting and allows the beginners as well to start their filleting practice at once. Buying and using a Wusthof Classic Fillet Knife would be a total fun. So, let's hear from you soon when you are done buying and using it.