German Wusthof knives are serving us for decades. Their knife lines come with different features, styles and comfort. Among all of their knife style and lines, the Santoku is also famous. If you are on the Wusthof part and trying to buy the best Wusthof Santoku knife then you are on the right tab. Here you are going to be privileged with an explicit discussion about the Wusthof Santoku review.   
The Wusthof's Santoku style knives offer its buyers a versatile feeling. The hollow edged knives have scalpel-like sharpness and feel great on hands. As all Wusthof knives come with great deal of versatility, the Santoku ones are not any exception.  
The question is, are the Wusthof Santoku Knives will be able to fill your satisfaction? To answer all your questions we have come up with two of the Santoku models to give you a detailed review.
Wusthof 4183 Wusthof Classic Hollow Edge Santoku Knife 7, 7″, Black
Wusthof WU4176 Classic Ikon 7-Inch Santoku, Hollow Edge, Black
Wusthof Gourmet Hollow Edge Santoku Knife, 7 Inch
Let's get to the main part.
Wusthof Santoku Knife Review in Detail
From Wusthof Classic series and Wusthof Classic Ikon series we have selected two best Santoku knives. All German knives are made grabbing the best material possible and Wusthof brand is in the front line in this very case. Let's have these two Wusthof Santoku knives' reviews with simple comparison table.
1. Wusthof CLASSIC Santoku Knife Review
 It is a known fact that the Classic Series of Wusthof has been wining the recognition of best selling series across the world. Among all of the knives of this series the Wusthof Classic Santoku knife also stands with proud for its significant feature and usefulness.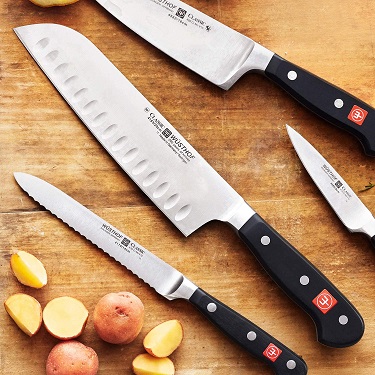 This Santoku knife is the ultimate kitchen horse serving all kitchen cutting purposes. The knife has the special feature you will always find in a Santoku Knife.  The knife is curved down creating 60-degree angle giving a perfect balance to the whole knife. 
The blade is precision forged and manufactured from a single sheet of stain-free steel. The steel is of high carbon and it is processed with tempered method to give it a hardness Rockwell of 58 degrees. Like all the Wusthof knives this one too is sharpened from the PEtec.
The edge is specially crafted by the skilled craftsmanship. The hollows are evenly crafted offering convenience to the cutting. The handle is made of synthetic polypropylene which offers a great deal of durability.
The blade surface of the knife comes with a seal of Wusthof designation that confirms the strictest and best quality standards. With three rivets the full tang knife is safely connected to the handle. 
Pros

Weighing only 4.8 ounces the knife is very light

Suitable for dicing, cutting, slicing, mincing of veggies, meats and fruits

Blade is thin, hard and durable

Edge is super sharp and long-lasting

Fully balanced and flexible enough

Offers finger guard

Full tang, half bolster and triple-riveted

Handle is resistant to all moisture, cold and water
Cons
Needs to be careful while using

Doesn't come with a sheath

Isn't dishwasher safe
Knife Specialty
The main specialty of this Santoku knife is its edge. With a cutting edge of 10 degree the knife is extremely sharp and made for any larger or smaller cutting pockets. The knife has an angle to its tip providing a sharper and straighter edge. 
Bottom Line
Overall, from the Classic series of Wusthof this 8inch Santoku knife has double edge retention. Your busy kitchen will be smooth to deal with when you will have this Wusthof Classic Santoku Knife in your kitchen.
2. Wusthof WU4176 Classic Ikon Santoku Knife Review
After the Classic series, the Classic Ikon of Wusthof offers a Santoku knife to its customers that has the premium quality feature. This Classic Ikon Santoku knife has a traditional yet elegant looking handle made of polyoxymethylene. 
As usual, the knife has precision-forged blade manufactured from a single block of steel. The high carbon stain-resistant steel made the knife thinner yet sharper and harder. With 58-degree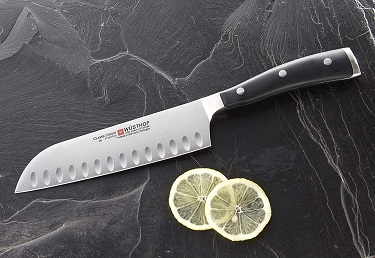 hardness Rockwell the blade is tempered following the strict rules of standard. 
Like all the Wsthof knives, this Santoku knife is also made in Solingen, Germany. To maintain the precise control, the knife is made full tang and connected to three rivets. Making 20 percent sharper the PEtec has given the edge an evil sharpness. 
The handle is curvy, sleek and ergonomic. The tip of the blade is bent to a specific degree to give it a Santoku look. The knife is half and double bolstered which give it a heft of professional style. With a 10degree cutting angle the blade size is only 7inch.
With a contemporary look the handle is eye-catchy and fits to any larger or smaller grips. The knife is made for all cutting uses.
Pros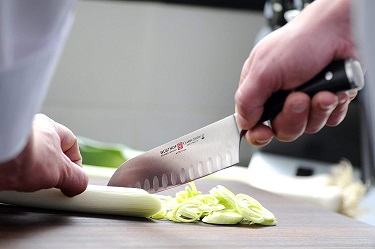 Weighs only 7 ounces

Compatible for any cutting, chopping, slicing, dicing, mincing

The handle is contemporary, fit and ergonomic

Handle is resistant to water 

Blade is thin and precision-forged

Easy to re-sharpening

 Edge is razor-sharp and superior edge retention

Triple-riveted, full tang and double bolstered

Durable, flexible and well balanced 
Cons
Sheath doesn't come with the knife

Requires hand wash and proper storage
Knife Specialty
The knife is half bolstered which has a premium heft. It helps the re-sharpening process easy and quick. Moreover, this feature also helps in the cutting of the larger fruits or veggies like cabbages. The edge is done with the hollow features that are evenly spaced following the vertical indentations.
These create small air pockets that make little distance between the food and the knife while cutting. This way the intention of the food sticking to the knife reduces a lot. 
Bottom Line
To speak the fact, this Classic Ikon Santoku knife is the actual kitchen workhorse that will serve you year after year without being dulled or rusted. Hence, this one could be your real kitchen king.
FAQ's on Wusthof Santoku Knives
1. What is the specialty of a Wusthof Santoku Knives? 
The Wusthof Santoku knives are way thinner yet the harder knives of this brand. Weighing very light the knives are easy to hold and easy to use. The knives are made for both beginners and professionals. With high-quality steel the blades are made. Getting a curvy shape the tip the blade is pointy and the edge is flat. 
The overall high quality Santoku knives are made for the go-to solution of your everyday cutting task. 
2. Are the knives full bolstered? 
No, the Santoku knives are half bolstered. They are double bolstered with a premium heft. The half bolstered knives offer a quick and simple sharpening process. As the Santoku knives come with finger guard they are totally safe to use. 
Again, knives with this feature offer easy cutting of larger edibles without creating any hassle. 
3. Is the Edge of a Santoku Knife durable?
Featuring a 10-degree cutting edge the Santoku knives have superior edge retention. The edge is flat and featured with hollow air pockets. This feature serves many purposes. The blade is gone through a tempered process to achieve 58degree Hardness Rockwell which confirms a standard quality blade and its edge of a Santoku knife.
Wrap Up 
 The name 'Santoku' says it all. It refers to the multi-use interpretation that means the Santoku knives are made to handle a wide range of different ingredients like veggies, meats, fishes and fruits. A real and standard Santoku knife will meet your all satisfaction while using. It should be able to even mince small herbs maintaining precise cutting quality. 
To meet your all needs our top selected Wusthof Classic Santoku Knife will do just fine hopefully. However, you can never go wrong with a Wusthof Santoku knife. In a way or other they will make amends of all your money you have invested to buy one. Let us know how you are dealing with your Santoku knife and give us your priceless feedback.