(Last Updated On: September 6, 2021)
As Japanese knives are famous, it often happens that two Japanese knife brands are being compared by knife enthusiasts a lot. However, people are more interested to know which knife is better in between Miyabi vs Shun knives. 
As both the knives come with ultra-premium features and high-quality materials, some subtle differences create a fine line between the Miyabi and Shun knives. Japanese knives are made by following different kinds of instructions. Besides, each brand prioritizes different advantages of the users. 
Therefore, there remain many differences between one Japanese knife to the other. Miyabi and Shun knives are also no exception. Let's see who wins in Miyabi Vs Shun knives.
Miyabi Knives Vs Shun Knives explained in Detail 
Miyabi Knives
Miyabi is popular for providing knives that fulfill the general expectations of a user. Where most of the renowned Japanese brand demands high prices for knives that are interesting only by the appearance, Miyabi knows how quality does matter rather than the look. Besides, Miyabi knives are greatly concerned about their steel and blade-making process rather than the look. With their double-bevel edges, Miyabi knives are always great to use.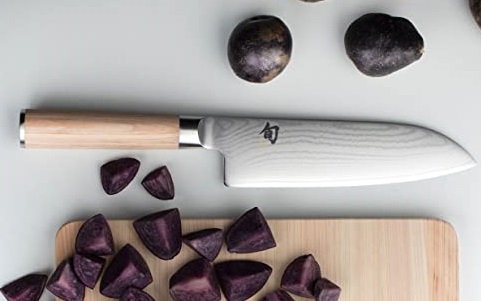 Shun Knives
Shun is considered one of the finest knife brands in Japan. The versatility of a Shun knife is inexpressible. Besides, Shun is leading the knife market for decades now. Therefore, Shun is an expert on the demands of the consumers. Not only by the performances but also Shun knives are very attractive. Many professionals have trusted the Shun knives only because of their sharp edges. This standard edge retention in each knife makes the brand more flawless. 
Miyabi Vs Shun Knives: Head to Head Comparison
Unique Features of Miyabi Knife
Unique Features of Shun Knife 

Miyabi knives have earned efficiency too soon according to its date of foundation.

 Miyabi knives are made prioritizing the quality of the knife rather than its appearance.

Miyabi brand uses 3 types of premium materials for making blades and one of them is patented by Miyabi itself. 

Most of the Miyabi knives come with handles that are made of fine pieces of wood. Besides, synthetic is considered as a great material for making handles to Miyabi.

Where many knife brands come with a single bolster to impress the users, Miyabi comes with a double-beveled edge to imprint its greatness.

Miyabi knives come with versatile shapes of handles including, round shape, D-shape, and visible full-tang shape. 

Miyabi knives are designed following the German Brand, Zwilling J.A. Henckels knives, and Japanese tradition.
To meet the standard level of the length of a chef knife, Miyabi creates 8 inches chef knife with a weight of 8 ounces.

Miyabi offers 6-12-degree edge retention on both sides of the knives to balance the cutting jobs.

Miyabi can go up to 66HRC to make their blade hard and durable.

Miyabi offers 9 different knife collections with different features of the knives.

Shun knives are growing their effectiveness gradually with time.

On the other hand, Shun knives are made prioritizing both performance and appearance.

Shun knives also use 3 types of high-quality materials for making Shun blades, but they don't use any patented blend of their own.

Shun also uses pieces of woods to have a density in the handle but Shun knives are greatly dependant on synthetic materials for quality handles.

Shun brand, on the other hand, concentrates on providing strong structure and double-bevel at the same time to provide optimum comfort to the knife enthusiasts.  

Shun doesn't show much versatilities in the shapes of the handles. But most of the Shun handles are round-shaped. 

Shun knives are totally designed following the aesthetic Japanese tradition and they never tried to adopt other country's culture like the Miyabi knives.

Shun knives also make 8 inches chef knife but the weight is one ounce less than the Miyabi knives.

Shun knives offer 16-degree edge retention on both sides which is ideal.

Meanwhile, Shun goes up to 62HRC to attain as much hardness as possible.

Shun offers limited 7 knife collections with a huge response.

Most Common Features of Both Miyabi and Shun Knives
Both Miyabi and Shun knives are precision-forged for perfect balance in the kitchen.

 Miyabi and Shun knives use SG2 and VG10 materials for making blades. 

For the handles both Miyabi and Shun knives use wood and synthetic materials. 

To ensure better performance and stability both Miyabi and Shun blades are hand-hammered. 

Both the Miyabi and Shun knives come with Damascus-style blades. 

The thinness of the blades of Miyabi and Shun knives is even better than the German knives.

As Miyabi and Shun knives are both precision-forged, they both require re-sharpening.

Like other Japanese famous knife brands, Miyabi and Shun knives also imprint their logos prominently in the body.    

Both the Miyabi and Shun knives are absent of bolster. 
Top 3 Shun Knife :
Shun Classic Blonde 8" Chef's Knife, Blonde PakkaWood Handle, Full Tang VG-MAX Blade
Shun Cutlery Kanso 8-Inch Stainless Steel, All Purpose, Durable, Essential, Handcrafted Japanese Gyuto Style Chef's Knife
Shun Premier Kitchen Knife Starter Set, 3 Piece, Paring, Utility, and Chef Knife, TDMS0300
What are the good things about Miyabi and Shun knives according to the user's experience? 
Things User are  love about Miyabi Knife
Things User are  love about Shun Knives

People like how the edges of the Miyabi knives are done by the hands of the Japanese artisans. 

The handles and the materials provide a good grip for quick jobs.

Many chefs appreciate the handcrafted edges of the Shun knives. 

The beautiful finishing of the Shun knives enhances the beauty of the kitchen.

The handles of the Shun knives are always trusted by the famous chef for their non-slip formula. 
Top 3 Miyabi Knife:
Miyabi Black 5000MCD67 8-inch Chef's Knife
Miyabi Chef's Knife, 8-Inch, Birch/Stainless Steel
Miyabi Fusion Morimoto Edition Chef's Knife, 8-inch, Black w/Red Accent/Stainless Steel
What people Still look for more in Miyabi and Shun knives 
| | |
| --- | --- |
| Cons of Miyabi Knives | Cons of Shun Knives |
| Miyabi knives are great to use but they need more preciseness and stability. | |
Which Knife is Better: Miyabi Knife or Shun Knife?
As Japanese brands, both the Miyabi and Shun has great ability to achieve all the standard level that an ideal knife possesses. However, many chefs ask for many types of facilities in a single knife. Though many people think Shun is better than Miyabi, it completely depends on the users. 
Miyabi knives come with thinner edges. This thin edge helps in slicing, chopping, dicing, mincing, and other cutting jobs as quickly as possible. This thin edge also makes the Miyabi knife sharper than any other knife. To get this sharpness, a precision-forged knife has to go through a lot. 
Miyabi brand successfully forms the knives into the edges that are thinner and sharper. Besides, the double-beveled edge helps in balancing the pressure while you are up to cut any edibles. All these facilities are attractive and you would want to try out the Miyabi knife. 
On the other hand,
Shun knives are very definite and specific about their materials. The VG10 material makes their blade harder than Miyabi knives. Shun brand never tried to form their blades thinner because they like to stick to their traditional way of polishing edges of the blades.
Besides, for making handles, Shun follows strict instructions. The handles are round-shaped in most cases. These handles are ambidextrous and that's why many people try out the knife for comfort. Therefore, if you like to have comfort and fine performance at the same time, Shun knives are perfect for you.
What is the best place to buy Miyabi and Shun knives?
Japanese knives and their efficiency are known worldwide. That's why finding out your choice of Miyabi or Shun knife is not a difficult task. Japan is loaded with knife markets and all the brands of Japan offer you a great collection of theirs. 
Besides, Amazon is always open to take your order for any kind of knife. All you have to do is search for your desired Miyabi or Shun knives and confirm your order accordingly. Wait for some days for dispatching, and the knives are at your door. 
Final Thoughts 
People get more interested if they find some specific ideas from a comparison segment. And for knives, the comparison between two famous knives occurs often. That's why we've brought the " Miyabi Vs Shun knives" comparison chart in front of you.
You should also allow your instinct to guide you to the right path. That's why try out your desired knife at once without getting yourself in any kind of dilemma. Both Miyabi and Shun knives will be a great experience and this is our word to you.