(Last Updated On: March 16, 2023)
If you are a cooking enthusiast, you know the importance of having the best knife in your kitchen. Even normal home cooks out there, desire the best kitchen knife or chef's knife. But, to have the best knife you need to go look for the best brands. Unfortunately, most of the best and reputed knife brands around the world offer knives that are highly expensive. Again, not all of us are capable enough to break the bank to have the best knife. Hence, today we have come up with the best affordable knife brands.
It may surprise you but brands with affordable knives do exist. Now that you are on this site most probably you are looking for these affordable brands as well. Well, we have come up with a list of the 5 best affordable knife brands for your convenience. 
Mercer
J.A. Henckels 
Victorinox 
Tuo Cutlery
Imarku
Without any delay, let's get to know these Cheapest Knife brands and their offers.
Let's check More about Top Knife Brands for money in Detail
There are many knife brands that are established with a value-driven strategy. Our picked knife brands are also not any exceptions. These brands try to offer knives made of quality products with a great price value. 
1. Mercer
This is our first pick as the best and most affordable knife brand. Mercer Culinary is a well-respected and well-known brand since its establishment.
However, Mercer Culinary is mainly known for its arguably good knives and their given price. This brand is competitively in the front row with the best expensive knife brands because of their value per dollar. Additionally, Mercer Culinary is a Taiwan knife brand. Using the precision-forged German steel Mercer knives are made. 
Nonetheless, till now Mercer has offered numerous versatile knife lines to its customers. Among all of its knife lines, the Mercer Culinary Genesis Knives Set is the most popular one.
Knife Lines
According to the features, quality, performance, and everything else, knives from this line are highly recommendable. However, its other knife lines include,

MX3

Zum

Renaissance

Millennia

BPX

Millennia White

Millennia Colors

Ultimate White

Praxis

Asian Collection
These are the knife lines Mercer has to offer to its buyers. All these knives come with versatile features and performance ability. You will find knives from a classic design to modern looks. This array of variety knives include chef's knife, utility knife, paring knife, knife set, and all. With exceptional craftsmanship, materials, and designs, these knives are more than just good.
3 Best Knives from Mercer knife brand:
Brand Specialty
Undoubtedly, Mercer culinary has many more products to offer except for knives. They are also famous for their sharpening tools, turners, servers, and other kitchen tools. Providing unsurpassed performance, Mercer knives are one of a kind within their given price value. Being an essential part of the vast foodservice industry, it has never stopped slaying.
2. J.A. Henckels
Most knife enthusiasts are acquainted with many German and Chinese brands and J.A. Henckels will surely be one of them. This is another famous brand we have selected that is famous for its value-driven strategy.
For your information, this is a knife brand under the most expensive and famous German brand Zwilling. Though Zwilling knives are made in German, J.A. Henckels produces its knives in the country China. The brand was first established in the year 1895 with the purpose of meeting customers of all classes around the world. 
However, many get confused with the brands Zwilling and J.A. Henckels. But, when you know they are not the same brand, it will all be clear. Also, J.A. Henckels products are made in factories of lower cost.
Knife Lines 
Providing some of the best cost-effective knives, even professionals also choose J.A. Henckels over the best brands. Moreover, like the previous one, this brand also has numerous knife collections. Among all of its knife lines, some are given below,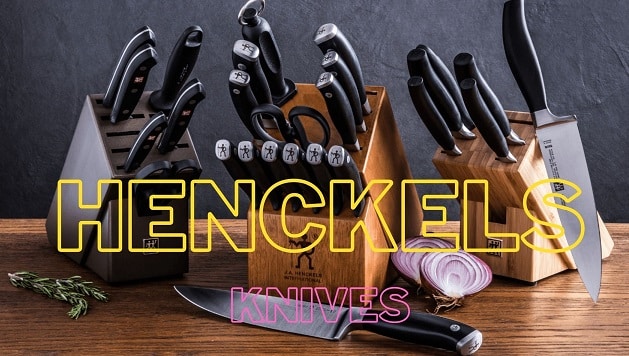 International Classic

Internation Forged Premio

Eversharp Pro

Fine Edge Pro

Fine Edge Synergy

Everedge Plus
With a one-person logo, J.A. Henckels knives have a separate fan base. These China-made knives are produced following strict rules. Also, these knives are made to ensure the capability to withstand a history of hundreds of years.
3 Best affordable knife from J A Henckels:
Brand Specialty
Nonetheless, some other countries including Spain, Japan, Thailand, and many also manufactures Henckels International knives. With the brand's very own design, each knife is crafted with pride. Overall, J.A. Henckels is also competitively the best affordable knife brand around the world.
3. Victorinox 
After Mercer and J.A. Henckels, the brand we have considered as the best affordable knife brand is the Victorinox. You might have heard about the brand Victorinox because of its luxurious watch production. However, this brand is also famous for its luxurious yet affordable knife production. The brand was first founded in 1884 in Inch, Switzerland.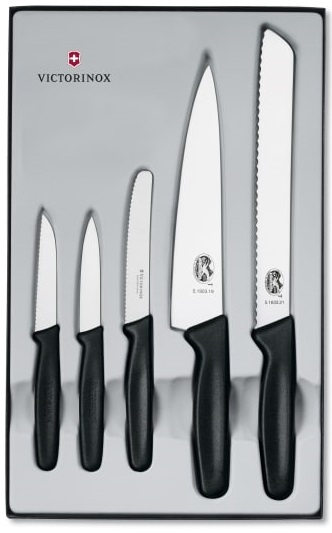 Moreover, the brand is mainly popular for its Swiss Army Knives. These knives are made of quality steel and appreciated by many all over the world for their excellent craftsmanship. However, the knives are mainly famous for their steel material. The steel used in these Swiss Army Knives is a proprietary blend of steel from France and Germany.
Knife Lines
Even, knives from Victorinox are considered the standard tool for NASA astronauts. The tools are one of the standard equipment for them. Moreover, these pocket knives have gone to places including the Arctic and Mount Everest. Here are some of the best collections from Victorinox.
Alox collection 

Wood collection

Camouflage collection

Limited editions
With versatile categories, you will have numerous options to choose from the Victorinox knives. From small, medium, and large pocket knives to other accessories including Swiss cards, Swiss tools, and all, this brand is a great slayer.
3 Best Budget-friendly from Victorinox:
Brand Specialty
More importantly, Victorinox is also considered the biggest and best manufacturer of pocket knives all over the world. With multiple features and uniqueness, these pocket knives are used widely outside the Army. With multi-functional combinations, the brand Victorinox has many pocket knife collections.
4. Tuo Cutlery
For using the best and specialized forging technology, Tuo Cutlery has always been a popular brand. With the crafting of exceptional knives, Tuo knives are famous both among professionals and regular home cooks.
However, the thing that makes the brand exceptional from other knife brands is that it has come up with a modern scientific solution. Using the best technology possible, Tuo knives are not just regular kitchen knives. They are more than that. For ensuring a long-lasting cutting edge and flawless creation, the materials used in the Tuo knives are refined in premium ways. 
Starting from 2016, this brand has gained a lot of fame within this short period. To talk about the designs of the Tuo Knives, the manufacturers never compromise with the knives to look elegant and more.
Knife Lines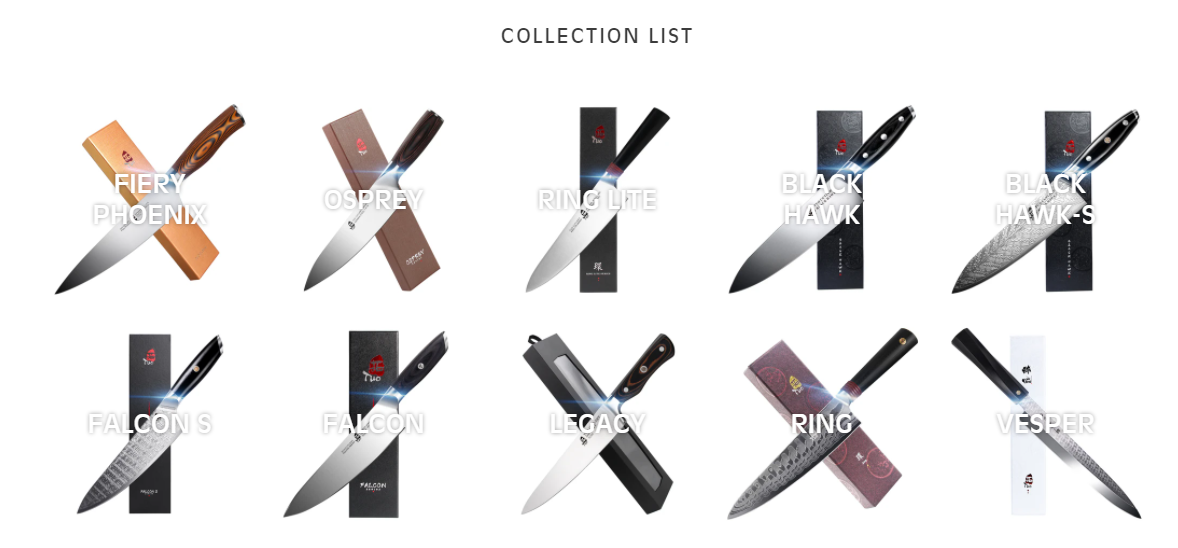 The handles are crafted skillfully and the blades are honed elegantly. A whole Tuo knife needs to go under several modern technology processes to gain the standard to be out for sale. Thus, within these years, they already have introduced the best collections. Some of them are given below.
Fiery Phoenix

Falcon Series 

Black Hawk Series

Osprey Series 

Legacy 

Ring
These different series knives reflect different traits, functionality, and features. There are Tuo knives with beautiful Damascus patterns. Using the best Japanese forged stainless steel technology, the knives are made carefully. However, we all know about the crafting proficiency of Japanese knives. They are always the best.
Top 3 Low-cost knife from Tuo Cutlery:
Brand Specialty
People around the world using Japanese knives competing with German knives. Hence, Tuo has contributed a lot in this sector with a low given price. With the extraordinary uniqueness in each knife, the Tuo knife and knife series are beyond affordability.
5. Imarku
We all know how a German knife from the best brand adds value to the kitchen. Somewhere deep down inside our hearts we all want to use a German knife. But, the best branded German knives are quite expensive.
Imarku has come up as a life savior in this case. Imarku is our last but not least pick in the list of the best affordable knife brand. Since 1839, Imarku is standing the test of time. The brand also took place in the knife-making city Solingen of German. Moreover, this brand has also taken over some of the best technology to provide some of the best kitchen tools to its customers. Using both the semi-automatic mechanized stamping technology and leading-edge forging methods, Imarku knives are made.
With their aesthetically pleasing design, the Imarku knives are exceptional and surprisingly affordable. However, the affordability never interrupts the quality and crafting process of the knife. The blade of the Imarku knives is made of high carbon steel. Again, the steel comes with added chromium for maximum durability and a long-lasting sharp edge.
Knife Lines
Till now, Imarku hasn't introduced any specific knife line with specific names. Yet, they have wide ranges of different knife collections. Meeting all the kitchen needs, Imarku knives are worth trying.
3 Best cheap knife from Imarku:
Brand Specialty
Moreover, each knife from Imarku takes up to 45 days for its full crafting. It indicates the dedication and uncompromising traits of the manufacturers. However, Imarku offers the best professional knife set, chef's knife, and other kitchen knives. Overall, if you barely want to invest money on a knife yet want the best one, then grab an Imarku knife.
Final Verdict
These are the best affordable knives you should check on. All of these brands provide knives at an affordable price rate proving that 'best things only can be got paying a large amount'. These brands are aware of the fact that not all of us are willing to pay a large to have a kitchen arsenal. However, to get the best knife at an affordable price get one from Mercer culinary. 
According to the price, performance, materials, and details, the brand offers the best knives possible. However, it is all up to you which one to choose. Hence, know your need and preference and get for one. Also, let us know your precious feedback.