(Last Updated On: August 1, 2021)
J.A. Henckels is the next best German knife brand after the Wusthof brand. Among the large collection of knives, J.A. Henckels launched their Pro S series. And with huge hype, many of you wanted J.A. Henckels Pro S review. That's why here we are to enlighten you with a detailed review of this knife. 
For some extraordinary features, the J.A. Henckels Pro S knife is getting a lot of attention from professional chefs and knife enthusiasts. Even its amazing stability beats some of the great Japanese knife brands so easily. Besides, as a German knife brand, J.A. Henckel is running their business for more than 200 years now. Within this long time, the brand knows how to process a perfect knife with their expert artisans. 
To get more useful information, let's jump into the detailed section of Zwilling J.A. Henckels Pro S review. 
J.A. Henckels Pro S Chef Knife Review in Detail 
A perfect knife can control a busy kitchen smartly ever. And to produce the perfect knife there are many popular brands worldwide. But you've to choose wisely because not every knife is going to meet your expectations. That's why a detailed review of your desired knife is important to represent. J.A. Henckels Pro S knife is that kind of knife that is capable of attracting you with its high definition and making process. Let's check them out.
ZWILLING Professional "S" Chef's Knife 8-Inch
Our Score
– Manufactured in Germany
– Special formula high carbon no-stain steel
– Sigma forge knife is forged from a single piece of solid steel
– Ice hardened Friodur blade starts sharper stays sharper longer and has superior resilience
– Precision honed blade and laser-controlled edge ensures ideal cutting angle for sharpness and durability
– Ergonomic polymer three rivet handle is perfectly bonded to the full tang
– 57 Rockwell hardness is equal to excellent edge retention
– Edge angle 15 degrees per side
Blade and Material of Pro S Chef Knife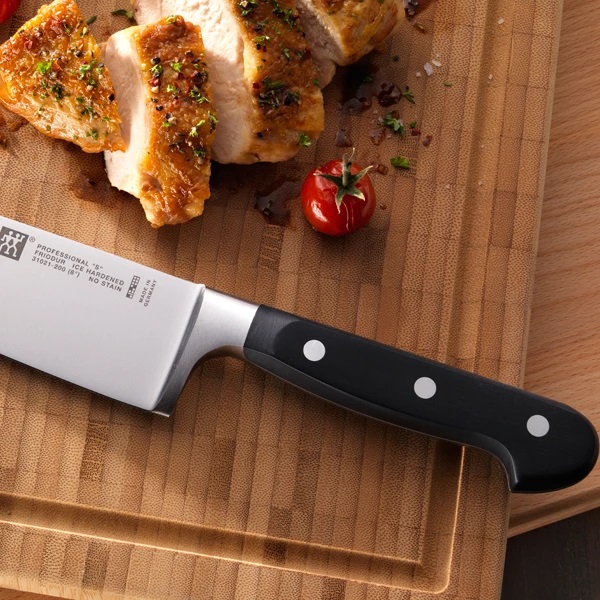 A knife is determined by the materials it is made of. In this case, J.A. Henckels knife brand is super concerned about their materials. With the 8 inches long blade the knife is leading in the market. Like the best brand Wusthof, this brand also believes in producing precision-forged knives. The blade comes from a single firm piece of high carbon stainless steel. With 57 Rockwell hardness, the knife is very resilient.
The knife is precision forged because it helps the knife to perform for a long time in the kitchen. Besides, the width of the blade helps the clingy edibles to release right after a stroke. The brand bonded the knife with ergonomic materials. This helps the knife to rise up like a strong instrument of the kitchen. Also, this rich material sustains safety to the fullest.
Edge 
Zwilling J.A. Henckels Pro S knife has a very sharp edge which is done by laser treatment. With the laser-sharpened edge this knife cuts, slices, chops, or minces the vegetables without requiring any extra effort. Besides, the 15-degree edge retention on both sides of the edge brings more stability to the knife. 
As a perfect knife, a sharp edge is expected. And this knife doesn't upset you. Also, you don't have to re-sharp the edge now and then because the sharpening process is done with new technology. This sharpness beats the edge of an ordinary knife for sure. Besides, you can enjoy doing a cutting-job even if it's a heavy-duty job. The knife is pre-honed for your optimum advantage. 
Handle
With ergonomic materials, the knife is already enriched. The handle is the most appreciated part by the professionals. The polymer handle comes in black color and sleek design. It is a full tang handle. For better durability and rigid construction, the handle carries triple rivets. The three rivets bond the blade with the handle seamlessly. 
Besides the impeccable bolster helps to give extra support while you pressure your hand to cut some edibles. This also helps to reduce any chance of occurring danger. Besides, an effortless job is done when you have a handle that is non-slip and heat-treated. 
Design 
Zwilling Professional S chef's knife comes with a very modern design with a sleek black handle. The accurate finishing between the handle and the blade evokes a sense of the perfect knife itself. With the thickness of the blade, the knife provides all the comforts to the users. The pointy edge offers quick cutting job.
However, from blade to handle, the knife is all made with the hands of professional artisans who are working with the brand for more than two centuries. With their hand-polished edge and a little use of modern technology, the brand successfully launched the S series at last. 
User Experience 
The knife is greatly appreciated by the reviewers because of its amazing construction. Especially, the handle and laser-sharpened edge are praised by professional chefs globally. The overall feature amuses most of the consumers around the world. 
Warranty 
J.A. Henckels brand is always there to satisfy the consumers with the best. And that's why it offers a warranty meeting the level of the consumers' expectations.
Pros
The pleasure of using a modern designed knife

No trouble of re-sharpening the edge after a heavy work

Offers durability, stability, and rigidity at the same time

Ergonomic handle for a non-slip journey

The pleasure of using the easy-gripped handle

Impeccable bolster for an effortless job

Provides proper balance to the hand 

Handles a busy kitchen with ease

Rustic knife with a corrosion-resistant blade

Completely dishwasher safe
Cons 
Demands a proper preservation

The tip needs to be taken care of
FAQ's on J.A. Henckels Pro S chef Knife
1. Is J.A. Henckels Pro S worth a shot? 
With rigid construction and high-end materials, the J.A. Henckels Pro S knife has gained its optimum ability to be an ideal knife. Competing with other knives, this knife is made with extra effort and professional hands. You will find the goodness of the knife when you give a strike to some vegetables with the knife. Considering all these, the knife is worth a try.
2. Does J.A. Hneckels Pro S Knife beat Wusthof brand?
The knife has possessed many skills to defeat other famous brands, so to say. There is always this competition between the top two brands of German  Wusthof and J.A. Henckels. Both brands are devoted to making knives that are beyond perfect. That's why in most cases, asking for a difference between these two brands is off the point. 
3. Is the knife better than a stamped knife?
Precision-forged knives are always great. But that doesn't mean stamped knives don't have values. Well, the two kinds carry two different benefits. As J.A. Henckels Pro S knife is precision forged, it carries extra power to beat the hard vegetables and fruits.
Final Thoughts 
In fine, the Zwilling J.A. Henckels Professional S chef's knife is not just an ordinary knife. With the great materials and construction formula, this knife is trusted by professional hands. Besides, the beginners can also hold the knife like a professional. 
From the J.A. Henckels Pro S review, you've already got a bunch of ideas about this ideal knife. Now it's time for you to make a satisfying utilization of the knife. And if you get a great company with this knife, don't forget to let us know.