(Last Updated On: September 8, 2022)
If you own a knife then you must also have a sheath for it. It has to be ensured for your safety especially if you often carry them around. Moreover, sheaths are important as well to protect the knife from all kinds of damage. 
Thus, it is also important to get the best sheath possible for your precious knife. Nonetheless, there are several materials used for making knife sheaths. Among them, however, leather is mostly used. 
Now, the question is which is the best leather for knife sheath? Well, to enlighten you regarding this topic, we have gathered some knowledge. Let us share them with you. 
Best Leather for Knife Sheath – Know the Types and How to Choose
There are several types of leather available for covering or making several materials. Each type has its very own properties and qualities. 
Nonetheless, among them, only some can stand out. They vary from each other depending on several factors. Let's get introduced.
According to Tanning Methods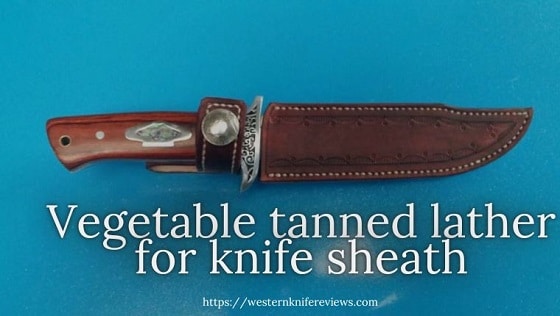 Till now, this leather is considered the best type of leather because of its excellent properties. Especially if you want to use them as sheath material. It is simply because vegetable-tanned leather has a natural manufacturing process. 
The manufacturers use natural ingredients to make this leather. From bark leaves to branches, everything natural is used to make vegetable-tanned leather. The natural ingredients offer natural texture and color to the leather as well.
Moreover, according to the skill of craftsmen, the appearance of this leather type can be either dull or polished. However, if the leather is made by professional craftsmen, then the result comes out to be way appealing and classic. 
 Look and Properties
Vegetable-tanned leather that is finished and made by skilled craftsmen has visible fibers. It also has an earthy smell. Moreover, the leather comes with flexible properties. Thus, you can fit your knife easily into the sheath you made from the leather. 
Furthermore, the leather is highly durable since it is moisture-resistant. Again, to talk about its appearance, vegetable-tanned leather has distinct yet natural hues and shades along with nuances. 
Advantages 
Comes with an aesthetic appearance

Has sturdy appearance

Resistant to moisture 

Made by following natural and organic process

Environmentally-friendly 
Disadvantages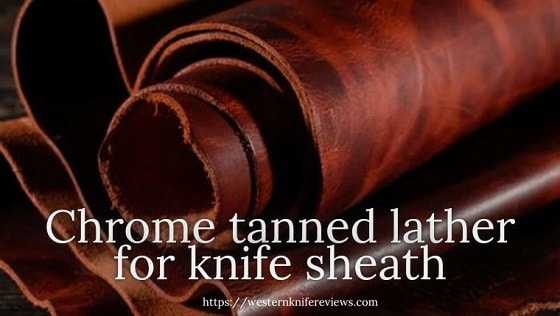 This type of leather is also very popular for making knife sheaths. To make chrome-tanned leather chromium and acidic salts are used. 
Nonetheless, compared to vegetable-tanned leather, chrome-tanned one takes less time to make. However, their characteristics vary in several ways. Chrome-tanned leather shows properties based on quality. 
If the quality is poor then there are chances that they will crack or peel in no time. Whereas, high-quality leather offers a polished finish and high durability. 
Look and Properties
Chrome-tanned leather comes with a uniform and even color. Its making process requires dyeing. That is why the leather does not fade when exposed to ultraviolet rays. 
Moreover, the properties of leather do not allow any growth of mold and mildew. Thus, the material can repel water. So, you can easily take this leather sheath anywhere in a wet environment. 
Advantages
Low maintenance 

Protected from UV ray

Suitable for wet environment

Resists mold and mildew formation
Disadvantages
Excessive use might make the leather fade away

Not environmentally-friendly
According to Leather Grades
Different leather grades express different properties, advantages, and disadvantages of that particular leather. Hence, there are several types according to the grades.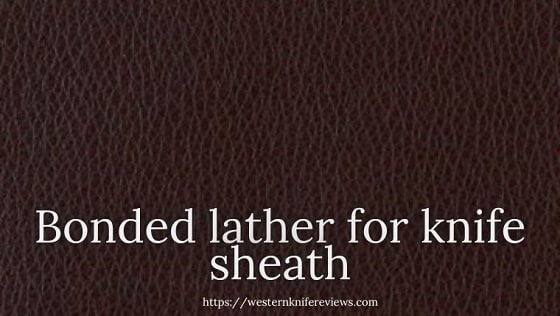 This leather is more like synthetic leather. Bonded leather is generally produced from leftover shredded leather. It has a coating of polyurethane. Generally, the leather is comprised of a paper backer or fiber. 
Therefore, this leather can come in a wider range of colors. It also offers versatile finishes. With a consistent appearance, the leather is uniform. However, manufacturers try to make the leather natural yet there are some disadvantages. 
Nonetheless, since leather is made of by-products, it serves the environment well. 
Advantages
Easy to clean

Environmentally-friendly 

sustainable

Cost-effective
Disadvantages
Fades away soon

Short life span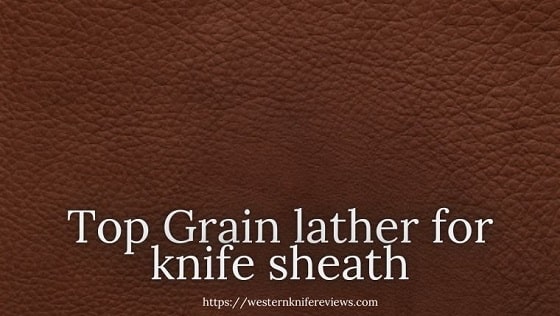 After bonded leather, this one is the second most popular according to the grades. Even this one falls to the highest grade among the vegetable-tanned ones. 
This leather is highly resistant to any environmental trouble. Its finish requires a tanning process hence according to the skill you can get a smooth finish. 
Advantages
Suitable for luxurious use

Offers the polished and consistent appearance

Flexible 

Resistant to abrasion 

Longer lasting
Disadvantages 
Less breathability 

High maintenance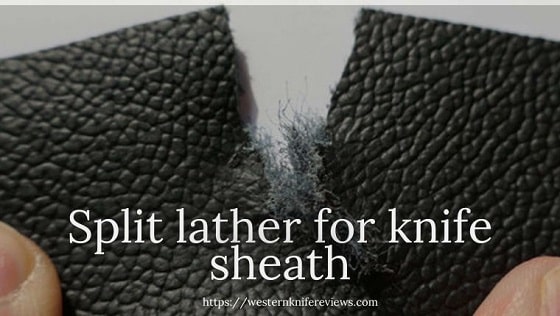 This is the third most popular leather according to the grades. This leather is the lower part of the hide. The leather is obtained through the splitting process. 
With a rough surface, split leather however is more suitable for low-budget knives. Still, the leather has dense fiber. Moreover, it can prevent moisture penetration. 
Advantages 
Cost-effective

Resistant to moisture
Disadvantages
Chips and tears 

Weak fiber construction
Other Type of Leather – Faux or Artificial leather
If you want the best alternative to natural leather then you can make the best out of faux or artificial leather. 
Its manufacturing involves several materials including nylon, polyurethane, PVC, and all. Though this leather has several drawbacks yet it can be the best option when you know it is durable, affordable, water-resistant, and best as a knife sheath.
Best Leather Recommendation for Knife Sheath
Let's make things easier for you.
If you want a sheath with the best properties and longest durability then go for vegetable-tanned leather.

Also, if you are willing to pay for the best quality knife sheath then yes, we would suggest buying a vegetable-tanned one.

Again, if you want comparatively better but with less budget also then chrome-tanned leather sheaths are just fine.

However, to select more cost-effective leather, you should go for bonded leather or top-grain leather. 
Final Words
Now that you know only leather materials can make quality knife sheaths, you should go for the best one. Since the knife is a sharp object, the leather will not be protected from the inside for a longer period. Yet, the best leather can hold it beyond your imagination. 
So, to protect your knife and yourself, choose the best leather to make your knife sheath.