(Last Updated On: September 5, 2021)
Knife enthusiasts around the world must have heard about the name Santoku. Basically, Santoku is a knife name and it is a Japanese word. The word means three virtues or uses which indicates the suitability and capability of the knife. However, a Santoku knife is mostly suited for dicing, chopping, and mincing. Hence, many professionals out there, look for the best Santoku Knife. Thankfully, the brand Sabatier has grabbed our attention. So, luck on you, today we are going to write the Sabatier Santoku Knife Review.
Sabatier is a France knife brand. Though this is not a registered knife brand name yet, the brand produces some of the best fully forged knives. The knives are made in the region Theirs of France. However, Sabatier is mostly known for its Santoku knives. 
Hence, stick with us to know everything about the Sabatier Santoku knife and to have a better chopping, mincing, and dicing experience.
Sabatier Santoku Knife Review in Detail
The best Santoku knife is meant to be versatile enough like a chef's knife. It should be equipped with the best and efficient blade ever. However, a general Santoku knife is designed with a flat edge that has an array of dimples on its edge to ensure its idealness. Hence, the Sabatier Santoku knife can be the right one. Just give a minute look to the knife.
Blade and Material of Sabatier Santoku Knife – Competitive As a Chef Knife

The most important part of a Santoku knife is its blade. Combining the best features of a cleaver and chef's knife this Sabatier Santoku knife blade is made. Hence, you will notice the blade of this knife is quite unique. 
Heavy and wide blade: This Santoku knife from Sabatier has a wide and heavy blade. As it combines the features of the cleaver, it comes with a broad blade. Again, for its properties for a chef knife, this Sabatier knife chops and dices very well.
High Carbon Steel

: The knife is made of high carbon stainless steel. with this steel, the blade is made to maintain the standard balance. 

Standard 7-inch blade

: Each knife requires a standard length according to the cutting tasks. It determines how comfortably the knife will work. Only the right blade length can slay the cutting process. However, a 7-inch Santoku knife has always been found to be more convenient and most importantly, versatile. It is more practical in terms of its applicability.
Edge of Sabatier Santoku Knife – Very Impressive

You never expect a dull knife for cutting tasks. The knife has to be razor-sharped and for this, it has to be built with a great edge. Slicing, chopping, dicing, mincing, and every other cutting job are easy with a Santoku knife with a sharper edge.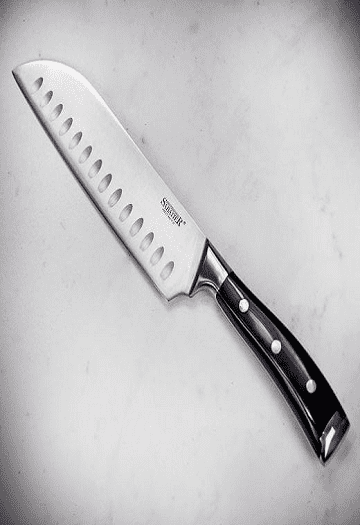 Flat edge feature

: Most of the best Santoku knives are crafted with a flat edge. This feature ensures easy penetration of the knife. Moreover, this Sabatier Santoku knife is a true edge-keeper as the sharpness lasts long.

A dimple or air pocket feature

: Again, like any other Santoku knife, this Sabatier knife also has air pockets. This feature is important so that the food doesn't stick to the knife while slicing or dicing. These air pockets or dimples help to release the food from the knife and offer a precise cutting.

Stable and easy to hone: This is another important feature of the knife. The sharpness of the knife remains for a long time even after rough uses. This Sabatier knife doesn't require frequent sharpening. 
Sabatier Knife Handle – Comfortable Material-Based

Like the chef knife, a Santoku knife is also used on a regular basis in kitchens. Hence, the handle must be ergonomic enough to be able to hold it for hours. However, our reviewed knife is also ergonomic because of its material and building process.

Olive wood Handle: This knife is constructed with a handsome olive wood handle. It is a classic handle that places on the hands firmly. Offering a firm grip, the handle ensures effortless chopping and cutting.
Balanced to the blade

: The handle of the knife is perfectly balanced to the blade size. Its weight is also distributed to the whole knife. Hence, you feel less pressure while holding and working with it.

Resistant properties

: The olivewood handle is also resistant to tearing or wearing. It is also resistant to several temperatures. 
Design – Sophisticated Enough

A great knife can be recognized by its design. The best knife should be designed beautifully both internally and externally. A proper Santoku knife is also not exceptional. However, this Sabatier Santoku knife comes with a beautiful design if you look carefully. 
Balanced Size and Weight: This 7-inch Santoku knife weighs only 7.5 ounces. Hence, the knife is lightweight. The blade and handle are also given the perfect size to ensure safe cutting.
The wide blade and air pockets:

The blade of this knife is wide for the convenience of cutting heavy edibles including cabbage, watermelon, and all. 

Bolstered and forged knife: Like other Sabatier knives, this is also a fully forged knife. With a single piece of high carbon steel, the knife is made. Again, the knife is finely bolstered so that the knife slays every small or tough cutting task.
 Full tang and Tipple rivets:

As we said before, the knife is forged hence, it is also a full-tang knife. Moreover, the blade is connected to handles with three metallic rivets. Hence, the feature makes the knife strong and resistant to tear. 
User Experience – What People Say About Sabatier Santoku Knife?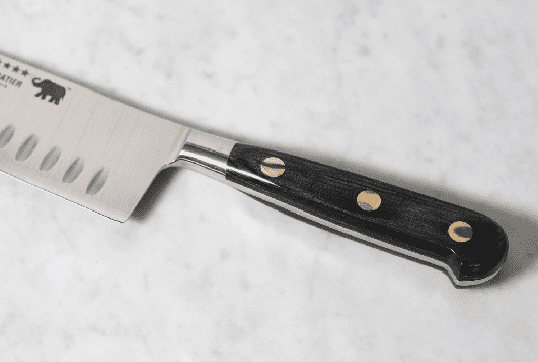 Surprisingly, with five-star ratings, this Sabatier Santoku knife is slaying all over the internet. The users of this knife are highly satisfied with the knife. Even, not only this knife, the users are highly recommending other knives from Sabatier. Everybody likes the sharpness of the knife right out of the box. They also think the knife is the best for gifting. 
Warranty – Limited But Worthy

Like some other best knives from the best brands, this Sabatier Santoku knife also comes with a limited lifetime warranty.
Pros
Lightweight, well-balanced and looks classic

Suitable for cutting, chopping, slicing, dicing, and mincing

The blade is made of high-quality carbon steel

The knife is forged and the blade is resistant to rust and dull

Comes with a razor-sharp edge and superior edge retention

The edge is engineered with air pockets for precise cutting 

The handle looks great and suitable on the grip

Ergonomic handle offers balance while cutting

Bolstered knife ensures safeguard

Full-tang, triple-riveted, and flexible
Cons
The dishwasher is not safe 

Requires hand washing with warm water

The handle might seem a bit small to larger-handed people
FAQ's on Sabatier Santoku Knife
Is a Sabatier Santoku Knife any good? 
To speak the truth, the Sabatier Santoku knife is more than just good. This is a versatile knife with all the features required in the best Santoku knife. With the best materials possible the knife is crafted carefully and beautifully. 
Is the knife forged or stamped? 
All Sabatier knives are forged knives. That means the knives are made of a single piece of steel. Its blade, bolster, and tang are made of one single steel piece and they are forged precisely. However, we all know forged knives are way superior to the stamped knives. 
Wrap Up
Now that you know everything about the Sabatier Santoku knife, it is easier for you to get one. After a lot of research, we have only found good words about the knife. This knife is highly appreciated by its users. However, praising the knife is inevitable when you get a sharp and efficient knife. 
Overall, having the knife is a good deal. The moment you start working with the knife you will feel its firmness and superior performance. Hence, grab one quickly and let us know your feedback as well.