(Last Updated On: September 8, 2022)
Are you afraid your life is at risk? You might be stabbed by a knife or something else since things are not going well with you? Well, most criminals choose a knife after firearms to commit homicide. Stabbing attacks with knives are only rising if you see the statistics. So, it is obvious that people will look for ways to protect themselves. So, yes, most probably you are looking for a knife-proof vest. Especially people working as polices or detectives might be looking for the best ones. But the question arises, does the knife-proof vest really work?
Let's get your back and enlighten you with everything regarding this topic. We will also recommend to you some of the best knife-proof vests that are available on the market. 
Knife Proof Vest – What Is It?
Knife proof vest is also known as a stab vest. It is basically body armor that you can wear both over and under your clothing. The body armor resists the attack of the knife on the chest, sides, and back. The vest is designed in a way that it will halt the penetration of the knife when stabbed beyond about a few millimeters. 
Thus, you can get rid of serious knife attacks and injuries. However, these body armors are meant to be produced with Kevlar material. It is a synthetic fiber and boasts a higher tensile strength. 
This fabric catches the abrupt penetration of the knife and it becomes trapped. The Kevlar weaving plays a great role as you can see. It catches the evil-sharp edge of the knife real smooth. So, this is what happens when a person is wearing a knife-proof vest and someone is attacking him with a knife.   
Do Knife-proof Vests Work? If They Do Then How?
Now, you know that knife-proof vests really work. However, the efficiency depends on the manufacturing method. Not all brands can ensure proper manufacturing of a knife-proof vest. 
However, since this body armor is made of synthetic fiber, the material is also known as Aramid. It is the same as Kevlar material. The materials are woven together very tightly to make the vest both stab and bullet-proof. 
The fiber material is already very strong. And when they are woven tightly, the bonding becomes way stronger. Nonetheless, the motion of the sharp object will certainly damage the carrier of the vest. 
So, once you are attacked, you might have to think of buying another new vest. Because once the vest gets damaged, it won't serve you like before. You may end up getting hurt. 
How You Will Choose the Best Knife Proof Vest
To get the best knife-proof vest, you have to keep some points in your head. Let's get to know what are those.
Determine the Level of Threat
It is the first thing to do since not all require a knife-resistant vest for the same reason. You have to assess the level and the situation you are in. 
Many people want a knife-proof vest because they maybe work with knives or other sharp objects. It is an obvious reason. Again, many love to play with swords. For them, these vests are life saviors. 
However, many firearms company also provides bullet-proof vests to their employees. Moreover, there are armor plates for dual-purpose are available to have protection against both bullets and knives. 
Assess Your Required Protection Level
This assessment is also important. You certainly cannot wear military-grade body armor for your protection. At times, body armor can be comfortable and also cumbersome. Select a lightweight one for wearing longer hours as a guard in a nightclub. 
Know the How Will You Wear
Many prefer to wear armor inside their clothing. In this case, you need to wear oversized dresses to accommodate the vest properly. Nonetheless, a visible vest will save you from potential stabbers.  
Now, knife-proof vests come with several features to make them versatile for users. Your purchased vest has to be water-resistant as well. It should have pockets to carry equipment and places for setting body cams. 
Also, know if your vest is for males or females, or if it is unisex. 
Best Knife Proof Vest – Our Recommendations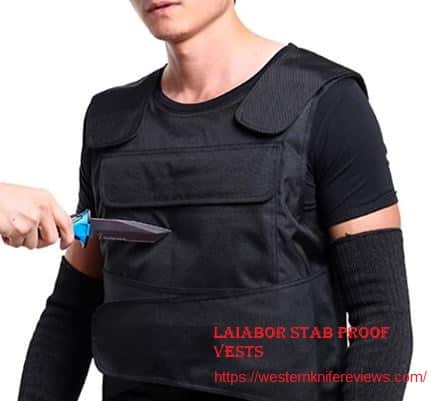 LAIABOR provides some of the best knife-proof vests for men's security. The vests are made of steel sheets of high Manganese Alloy. The inner tank is 0.6mm thick which is a great support to halt the penetrating knife.
Their vests are ideal for commerce, industry, security, and urban management. Weighing almost 2 to 3kg the LAIABOR vests are quite heavyweight. 
Blade Runner Stab Resistant Plates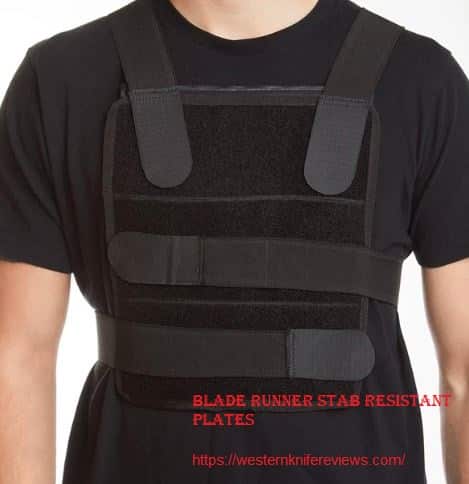 These are basically knife-resistant plates. These plates are supposed to provide level 1 protection. That means you are safe from the spikes. 
The brand uses Kevlar material to use these plates. The panels inside the plates are about 1cm thick. You can easily wear the plates underneath your cloth. They are super comfy.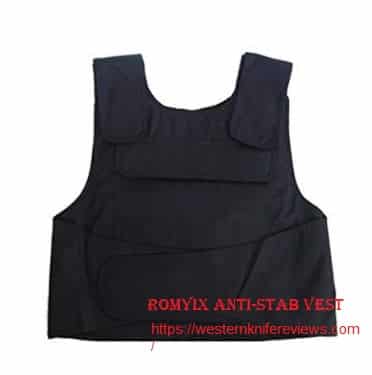 ROMYIX is also a famous brand for manufacturing quality knife-proof vests. They have increased heavyweight versions in their collections for better protection. The company also uses high Manganese tungsten steel at a thickness of 0.7mm. 
The vests are comprised of multiple layers of steel. In most vests, it is superimposed with 5 layers. ROMYIX vests also offer level 1 protection. Moreover, the vests come with a free gift and ensure 50 years of usage.
Israel Catalog Stab Proof Vest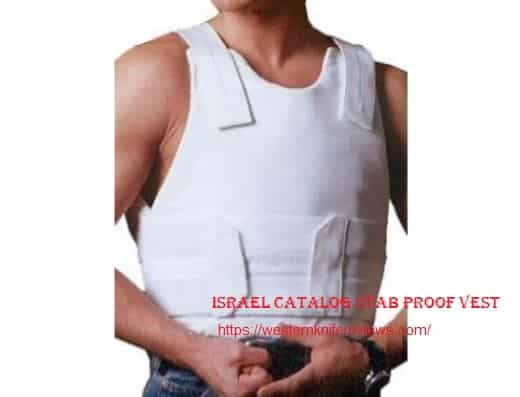 If you are looking for ultralight concealed vests at the best value then Israel Catalog has a lot to offer. They provide some of the best flexible and thin stab-resistant vests. However, they use Kevlar for the panels only. The vest part is made of polyester and cotton. 
The materials ensure proper breathability and comfort. You can also remove the ballistic panels for your better convenience. 
PPSS Group Stab Resistant Vest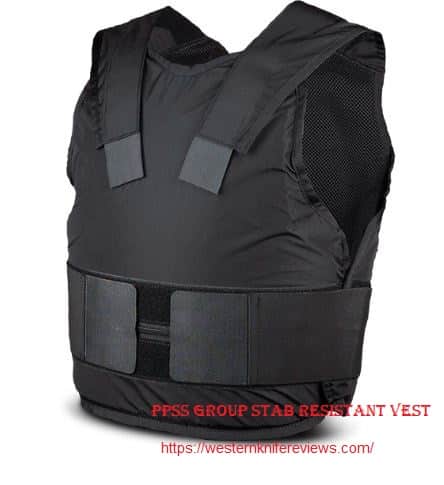 PPSS Group also stands out of all other brands for producing the highest standard knife-proof vest. The vests are capable to fight a wider range of spikes and sharp edges. The manufacturer uses high-quality Kevlar. 
Their vests are standard since they are tested and then certified. They produce both over and covert design vests. So, if you want a concealable one, go for the covert vest. For showing off, choose the overtone. 
Knife Proof Vest vs Bulletproof Vest – The Differences
Both bullet-proof and knife-proof vests are made of Kevlar material. The bullet-proof ones are mainly resistant to firearms and handguns. However, they are also resistant to knife stab to some extent. 
On the other hand, knife-proof vests are resistant to sharp edges but they hardly can resist the bullet from firearms.  
Final Words
You know better if you really need a knife-proof vest for your protection. You have to keep the fact in your head also that the vests can cost from $250 to even $1200. So, depending on your budget, you have to choose one.   
A protective armor might be expensive but remember, your life is precious. So, take steps accordingly.